2014-Jun-4 Dredging of Hemlock Springs
Article written on 2014-06-04 by: Mike Renish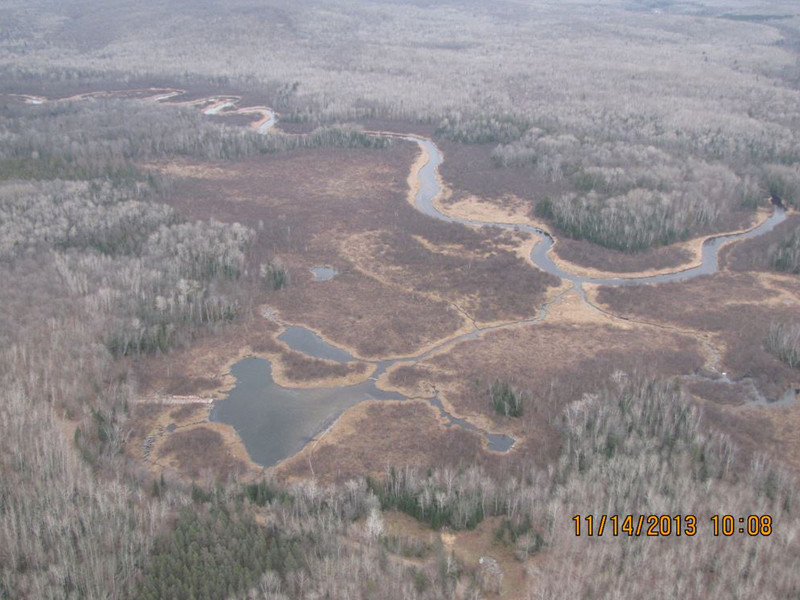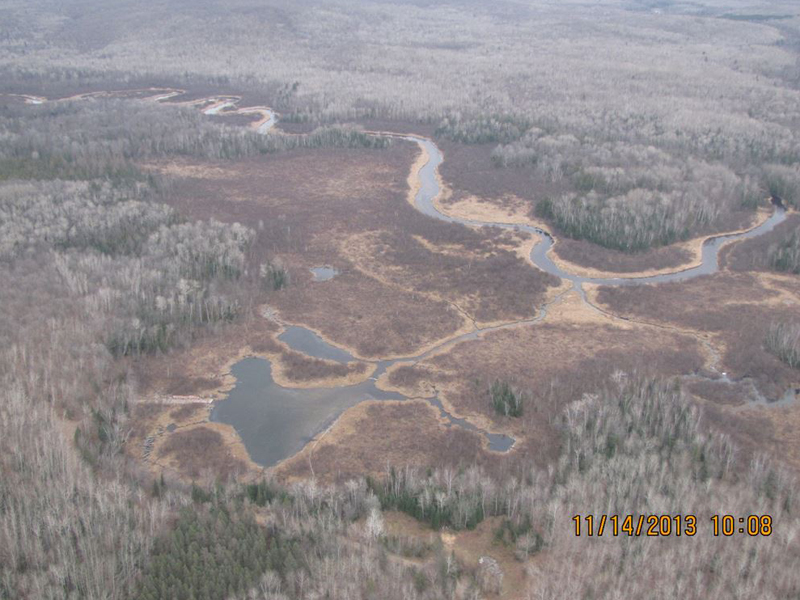 WDNR Dredging of Hemlock Springs
Wednesday, 6/4/14, the Wisconsin Department of Natural Resouces (WDNR), launched " the Dredge " into Hemlock Spring Pond.
Spring ponds were created by the last glacier and the original ponds were much deeper and colder when first formed. This is last year, of the 3-year project, to "turn back the clock" 10,000 years.
The first year was all prep work.  This included building an access road to move the pontoon boat with the hydraulic pumping equipment (the Dredge) in and out of the spring pond (~160 poles cut in 20 foot lengths were used to build the courdury),  removing small conifers to clear the spoil area and build a dike around that vacated area.
Our second year, Summer of 2013, 0.8 acres of pond were deepened and you can find the specific numbers below.
In 2014, our last year, the trout habitat crew will finish deepening the pond. This will provide a cold water refuge for brook trout from the North Branch Oconto and is part of an effort to make the North Branch Oconto River better trout water.
The access road will remain for a fishing access trail to provide direct access to the pond.but in the long runthis effort will improve trout fishing on the larger North Branch Oconto River. TU members are welcome to explore the area which is all located on national forest lands.
Please check out our Gallery of Photos  that we have of the prep work, the dredge staging and entering the pond plus the condition of pond that is about to be dredged.  We'll have more photos to add later as the project progress.
Please click on the Google Map to locate Hemlock Springs which is just NE of the dead end on Spring Lake Lane.
Below are some answers to some Frequently Asked Questions:
Pond's acreage? According to the "Surface Water Resources of Oconto County" this pond is 1.6 acres.  The DNR's Register of Water Bodies System (ROWS) has it listed as 2.0 acres.  We'll call is 2 acres and go from there.
Depth? Most of the pond was/is 1 to 1 ½ feet deep.  There were three deep pools in pond caused by strong upwelling of spring water.  They were 7 ft., 5 ft. and 4 ft. deep.
Purpose? To increase living space in pond for the native brook trout population.  Also, this pond is likely to provide a retreat for the brook trout living in the North Branch Oconto River during July & August when water temperatures are undesirable.
Cost of Project? The original project funding request was for $76,500 for this three year project.  About $51,000 was from trout stamp revenue.  Since then there has been some savings from cost sharing partners such as Trout Unlimited, US Forest Service and the Antigo DNR Fisheries.  Below are listed some of the savings.

Fuel for Dredge,  Yearly Cost $5,000,  Paid by Trout Unlimited
Dike on Spoil Area,  Estimated Cost $5,000,  Constructed by US Forest Service, services paid by Trout Unlimited
Gravel for Access Rd,  Value of $6,000,  Donated by US Forest Service
DNR Labor (LTE),  Estimated Cost $9,000,  Paid by Antigo DNR Fisheries
Total savings ~ $25,000.  Therefore the cost of project will be ~ $51,500.  This does not include the equipment & labor expense incurred removing the small conifers from the spoil area of this project.  These conifers were bundled (by a Christmas tree bundler) and transported to Jones Creek (aka, Mary Creek) where there was 1000 feet of stream restored by brush bundling through the efforts of Trout Unlimited.

How long will it take? 2012 was all prep.  2013 we dredged .76 acres of pond and removed 8,571 cubic yards of silt.  In our final year of 2014, we hope to do the same or more as 2013.