2013-Aug-17 Ninemile Creek
Article written on 2013-08-17 by: Randy Rake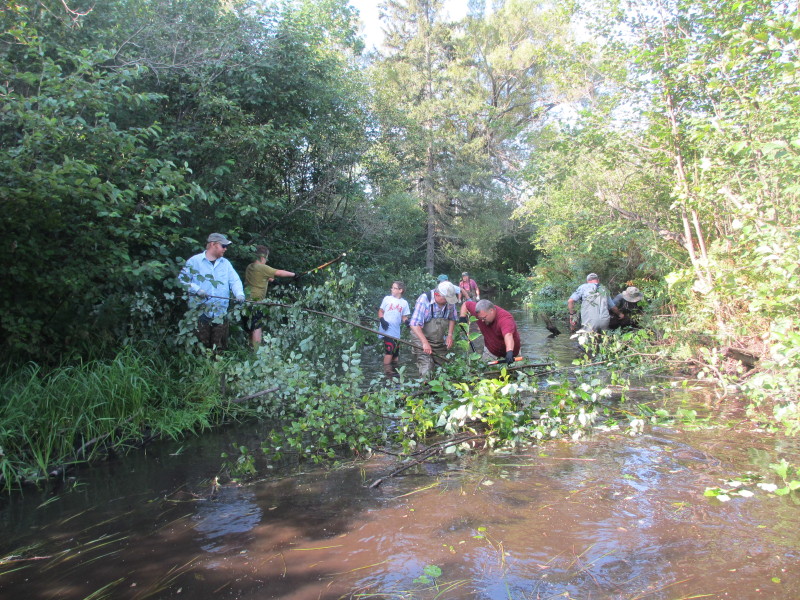 View the photo Gallery of the day
Work Project on Ninemile Creek with brush removal and channel enhancement near Hwy 55, Hollister, Langlade County
Our final TU work project of the summer was another successful event as we headed north and west to Ninemile Creek, a tributary of the Wolf River. We cut and placed alder brush to improve the stream channel over one third mile length of this creek. There was truly a massive amount of brush enshrouding the stream.
A heavy-duty brush cutting machine was employed to open up the stream canopy. The crew then went to work gathering and placing the brush into designated areas to narrow and increase the currents flushing out silt and exposing gravel bottom substrate.
The increased flows should help maintain cooler water temperatures and provide habitat for migrating trout, both of which are important to the downstream watershed areas including the Wolf River.
We were fortunate to have so many volunteers that it was necessary to divide into three work crews.
There was a TREMENDOUS turnout of 35 TU members from Green Bay, Wolf River and Oconto River Chapters, possibly the largest crew in our history which allowed us to accomplish this trout habitat improvement.
Thirty-five (35) TU members made this happen, including 20 from Green Bay: Dave Karcz, Mike Renish, Harold Becks, Jeff Stone, Jon Duechert, Bruce Duechert, Mitch Bent, Dennis Dugre, Byron Dugre, Adrian Meseberg and son, Payton, Doug Seidel and Grandson Gabe, Pat Hill, Mike Mellon, Paul Kruse, Bill Holton, Rod Parratt, and Lee Meyers.
The Oconto Chapter brought Peter VanderWegen, Don Wagner, Dale Halla, Dan Sumnicht, Mike Sumnicht Tim Busman and his two sons.
The Wolf River Chapter had 10 members lead by Andy Killoren, and they also provided a cookout lunch for the big crew.
We were all lead by three DNR workers from Antigo including Ben Rolling, Rick Halder and Taylor Curron (LTE brushing crew, TU funded).
We thank everyone who helped make our final project for the summer another success. Working together we accomplished much for the coldwater resource this past summer.
Submitted by Lee Meyers