2014-Jul-19 North Branch Oconto
Article written on 2014-07-19 by: Michael Renish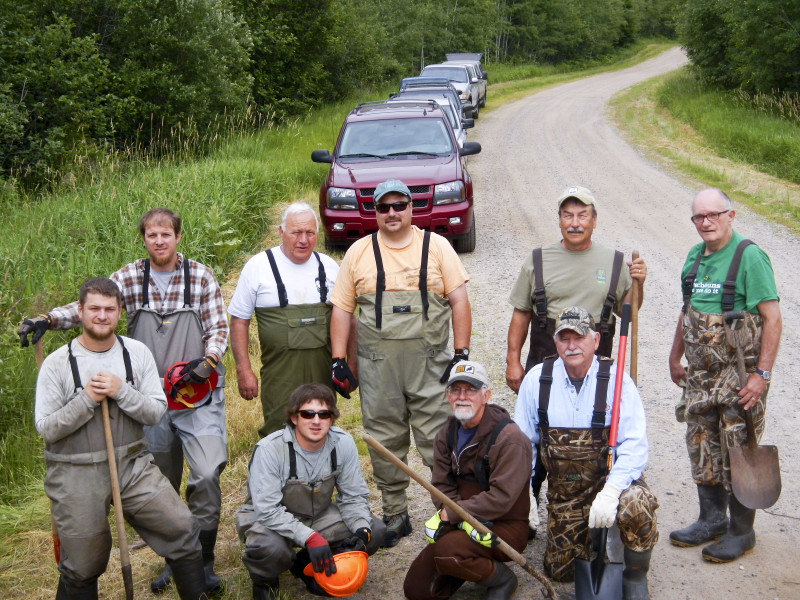 Our 3rd work project of the summer on July 19th, 2014 was on the upper North Branch Oconto River where we bundled brush, narrowed channels and reconstructed banks.  This section was upstream of prior years work.
A small but hardy group of TU members joined in to help improve about 500 feet of stream channel. We specifically placed brush bundles, secured them by shoveling stream sediment (sand) and creating new stream banks.
Five members of the Green Bay Chapter were joined by 2 members of the Oconto Trout Unlimited.
The work was lead by Forest Service biologist Tom Moris and included 3 Forest Service summer employees. These summer employees are those the NE Region of  Trout Unlimited chapters helped fund.
This Summer Forest Service crew also brought us up to speed on additional Trout Habitat work they have done this summer on the South and North Branches of the Oconto.  We are looking forward to a future article that will give us more detail on their work activities.
Green Bay members included Pat Hill, Doug Seidl, Dennis Dugre, Lee Meyers and Paul Kruse.  The Oconto Chapter members were Bob Omba and Jim Tructa.    The summer employees of the Forest Service included Alex Birkle, Jordan Gust and Adam Grunwald.
Lunch was provided following the work compliments of the Oconto Chapter.  Thanks to all the TU members for their valuable work.
We were provided with new trout population survey data from the WI DNR for this area of the North Branch.   In short, our habitat improved section had more than double the number of brook trout compared to the reference area downstream where the North Branch crosses Hwy 32.  And, the trout were bigger, with 48% of the population 7 inches or larger, compared to only 10% over 7 inches in the reference section.
Please check out the Gallery of Photos for the brush bundling on the North Branch of the Oconto.