2014-Jun-21 Spring Creek
Article written on 2014-06-22 by: Mike Renish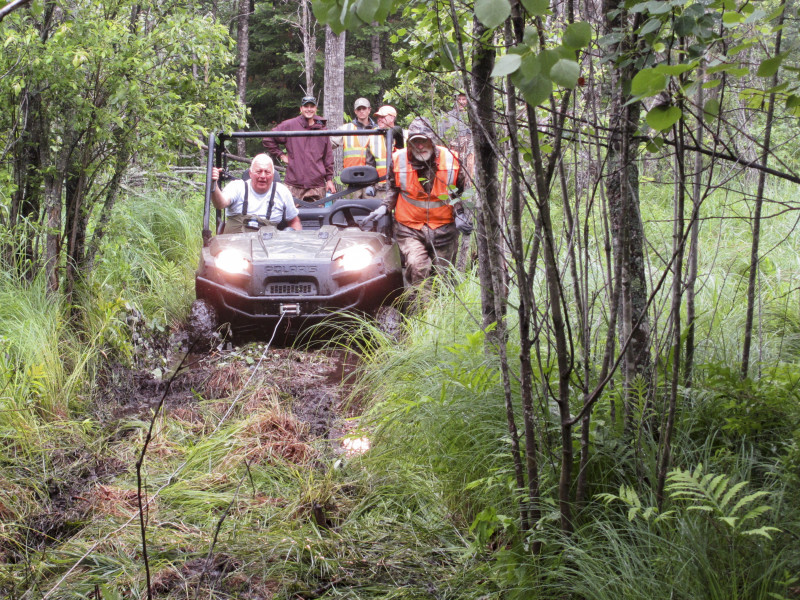 Brush Bundling on Spring Creek
On June 21st, Green Bay Trout Unlimited's second work project of the year was on Spring Creek which feeds into the Wolf River in Langlade County.
Three Trout Unlimited Chapters and the Wisconsin Department of Natural Resources came together Saturday morning to make this coldwater resource a little better.
28 individuals cut brush, moved and piled brush into brush bundles, pounded stakes and secured everything with twine.
This work was done in order to narrow the stream channel and provide better living conditions for larger trout.
Spring Creek flows into the much larger Wolf River and during the warmer months this stream likely provides a cold water refuge for trout from the Wolf.
Green Bay Chapter members present included: Mike Renish, Adrian Meseberg, Payton Meseberg, Pat Hill, Paul Mongin, Dave Ostanek, Jeff House, Jeff Gross, Jeff Stone, Noel Craig, Bill Thorn and Lee Meyers.
Also present were four members of the Oconto Chapter and several members of the Wolf River Chapter who also provided everyone with a cookout lunch.
A special addition Saturday was the newly hired, NEW Trout Coordinator, Jonathan Pyatskowit.
The Trout Habitat staff from Antigo, who setup this project, were lead by Ben Rolling and included Dallas Moe and Tyler Curran (our TU sponsored brush cutting crew), Rick Halder (permanent Fisheries Tech), Dave Seibl (Fisheries Biologist), Brian Jaworski and Rebecca Milligan (LTEs) .
" Thank You ! " to all who took time from their busy schedules to get this valuable work accomplished.
Click on the Google Map to see where this project was located and check out the Gallery of Photos.
Submitted by Lee Meyers