2014-Mar-1 Cabelas Community Outreach
Article written on 2014-03-05 by: Mike Renish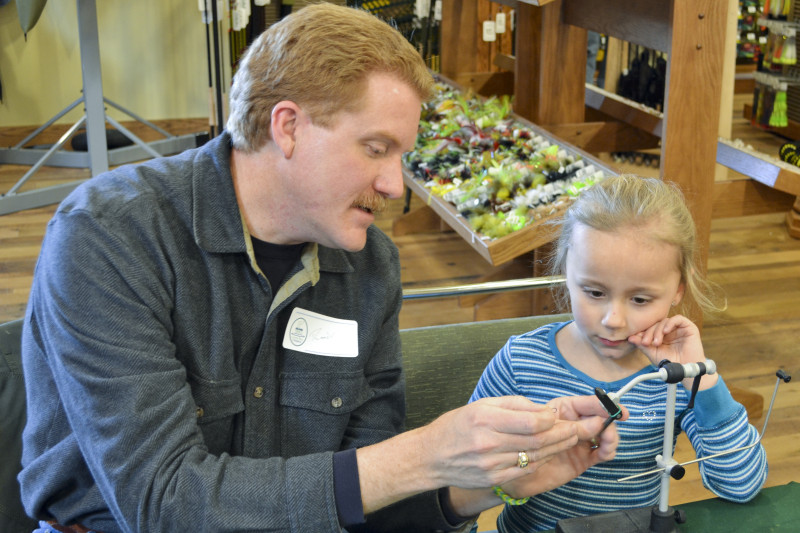 GBTU Fly Tying Seminar
On March 1st and 2nd, Green Bay Trout Unlimited and Cabela's teamed up to hold a Community Outreach Fly Tying Seminar.
We had several TU members help with the instruction including Paul Kruse, Winston Ostrow, Linn Beck, Bob Obma, Randy Rake, Adrian Meseberg and Mike Renish.
All of our 6 fly tying stations, inside Cabela's by the fly shop, were busy with new tyers working on spining the famous Packer Wooly Bugger.
Over the two days, dozens of folks stop by to see what was happening and several of them decided to give it a try.  The ages of the beginning fly tiers varied from very young to middle aged.  You can see from the Photos of the Event that many young folks were interested in giving it a whirl – pun intended.
We have to give special thanks for Central Wisconsin Trout Unlimited and their fly tying crew lead by Bob Hasse and Linn Beck for packaging up about 100 Packer Fly tying kits of all the materials needed.  It really helped facilitate the seminar and the instructors could mainly focus on helping the students versus chasing for material.
THANK YOU to everyone to help make this event a success !