2015 Banquet a Success !
Article written on 2015-02-22 by: Lee Meseberg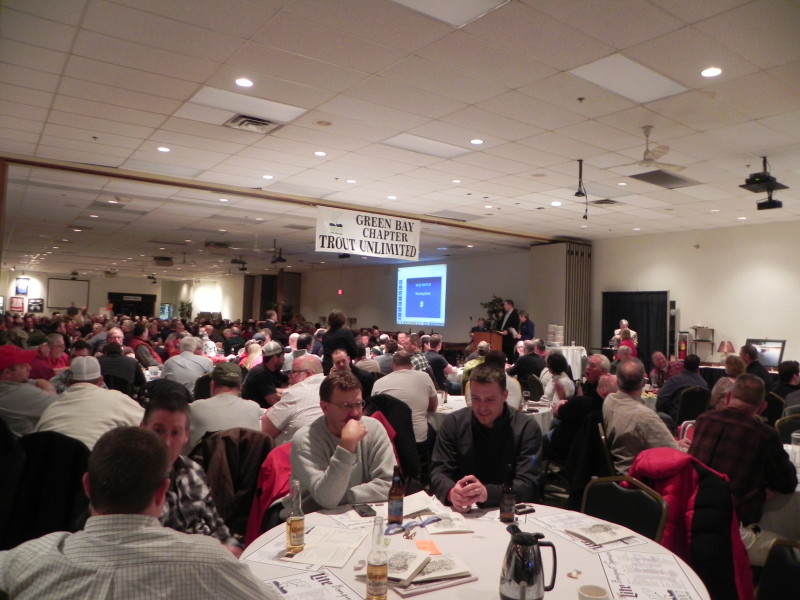 On Thursday, February 19th Green Bay Trout Unlimited (GBTU) held it's 40th annual conservation banquet at the Stadium View Bar and Grill in Green Bay, WI.
While we have seen attendance numbers in the mid-200s over the past few years, it appears that this year's banquet went over the 300 person mark.  A big part of the high turnout was no doubt a result of an excellent campaign of advertising, coupled with the high quality of the event in the past.
Some of the highlights of the evening are as follows…Wisconsin Trout Unlimited President Henry Koltz made the trip to Green Bay to be our banquet m.c.  He did an amazing job, and it was an honor having him as host.  GBTU Board member, Dave Ostanek's sister won the GBTU Raffle grand prize of $1000 (Dave himself won one of the $100 prizes).  This year's 50/50 raffle went over the $2000 dollar mark, and was won by Roger Denil…a 30 year GBTU member.  The lucky winner of the fishing kayak was Jeremy Vogels.  One of our special raffle items was a Wisconsin-made Henry 30-30 rifle.  Tickets were limited to 125 and were $10.00 each.  Every ticket sold.  The same held true for a 9mm pistol in which 125 tickets were all sold at $5.00 each.  Live auction items included a framed, autographed Jody Nelson jersey, wood carvings of a brook trout (by Dick Prehn), yellow perch (by Dave Van Lanen) and loon, and much more.
This year's Conservation Committee completely outdid themselves.  All the time, effort and dedication showed.  A big thank you goes out to the committee…Dennis Gusick, Janet Smith, Lee Meyers, Jim and Kim Vanden Branden, Jack and Arlene Koivisto, Wally and Laurel Heil, Mitch Bent, John Deuchert, Matt Norum, John Montquin, Jan and Gary Stoychoff, Pat Hill, Doug Seidl (and grandson), Daniel Kruse, Heidi Oberstadt, Aaron Frailing, Henry Koltz, and Adrian Meseberg.  A huge thanks goes to Bruce Deuchert and Paul Kruse for leading the group.  A final thank you goes to the Stadium View Bar and Grill for the excellent food and service.