2016 Christmas Party
Article written on 2016-12-07 by: Adrian Meseberg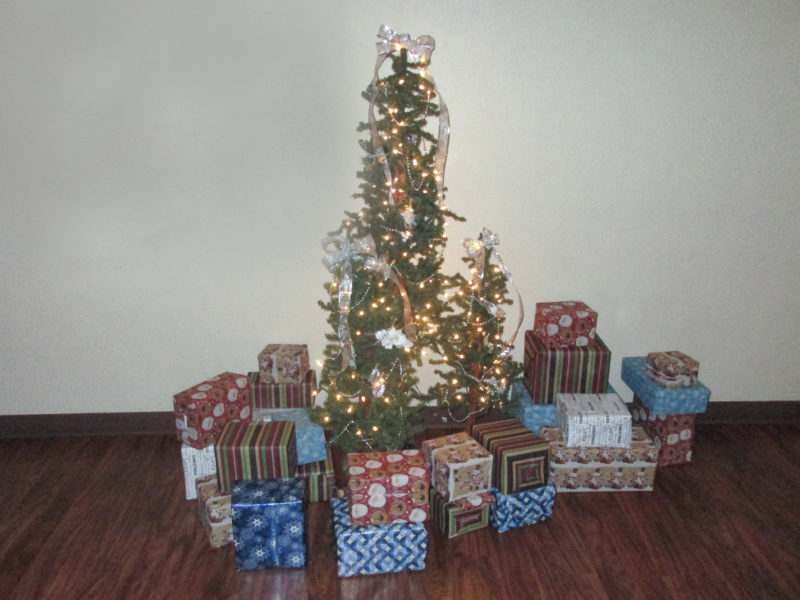 Awards Dinner/Christmas Party Recap
On Thursday, December 1st roughly 50 Green Bay Trout Unlimited ( GBTU ) family and friends joined together for our 2016 Christmas Party / Awards Dinner. The event took place in the large backroom at Townline Bar and Grill.  The staff here did a terrific job of decorating by providing us with plenty of lights and several Christmas trees. The doors opened at 5p.  Party-goers continued to arrive until 6:30 when it was time to eat.  Bruce Duechert led the pre-meal prayer, followed by an all-you-can-eat buffet of broasted chicken, BBQ ribs, mashed potatoes, gravy, dressing, vegetables, coleslaw, dinner rolls, butter, coffee, milk, and assorted desserts.
After eating, we were treated to the beautiful singing and keyboard playing of Amy Phillips.  Amy played primarily Christmas songs with an occasional classic pop song.  She ended her set by playing, and getting the crowd to sing, "Happy Birthday" to GBTU President Adrian Meseberg.  He was very grateful….and embarrassed. Now it was time to recognize those who went above-and-beyond in 2016 with the awards portion of the evening.
First was the President's Club award.  This award has often been given to a "newer" member who has demonstrated a high level of activity within the chapter.  John Tilleman took home the honor this year.  In 2016 he helped GBTU and the DNR stock keeper-sized brown trout in Haller's Creek, joined us on work projects and for meetings.  He also proactively applied for and received a $1000 grant through Georgia-Pacific.  This award comes with a plague and a GBTU personalized jacket.
Next was Business of the Year Award.  For 2016 GBTU was proud to recognize two business who have been long time partners at our February Conservation Banquet.   Bradley Gun Sales in Denmark has been donating guns to us for many years.  Owner, Arlen Bradley, and his family couldn't be easier to work with.  At our banquet, he performs background checks on all firearm winners so they can bring their prize home that night.  St Croix of Park Falls LTD was the other business of the year winner.  Despite the fact, they are on the other side of the state, they are an incredible ally.  GBTU silent auction leader, Wally Heil, developed and strengthened a relationship with St Croix's Rich Belanger which continues today.
Have a wonderful Christmas !
The final award was for Member of the Year and was presented to Doug Seidl. Doug is one of our most active members. He attends nearly every work project. He is at nearly every meeting. Doug has been on our Conseravation Banquet Committee for years. He is on the chapter Board of Directors. Doug is constantly bringing the chapter's attention to threats, concerns and highlights involving Wisconsin coldwater resource issues. Thank you to all who made it out and for everything you do for Wisconsin's coldwater resources !