2017 Banquet Recap
Article written on 2017-02-17 by: Michael Renish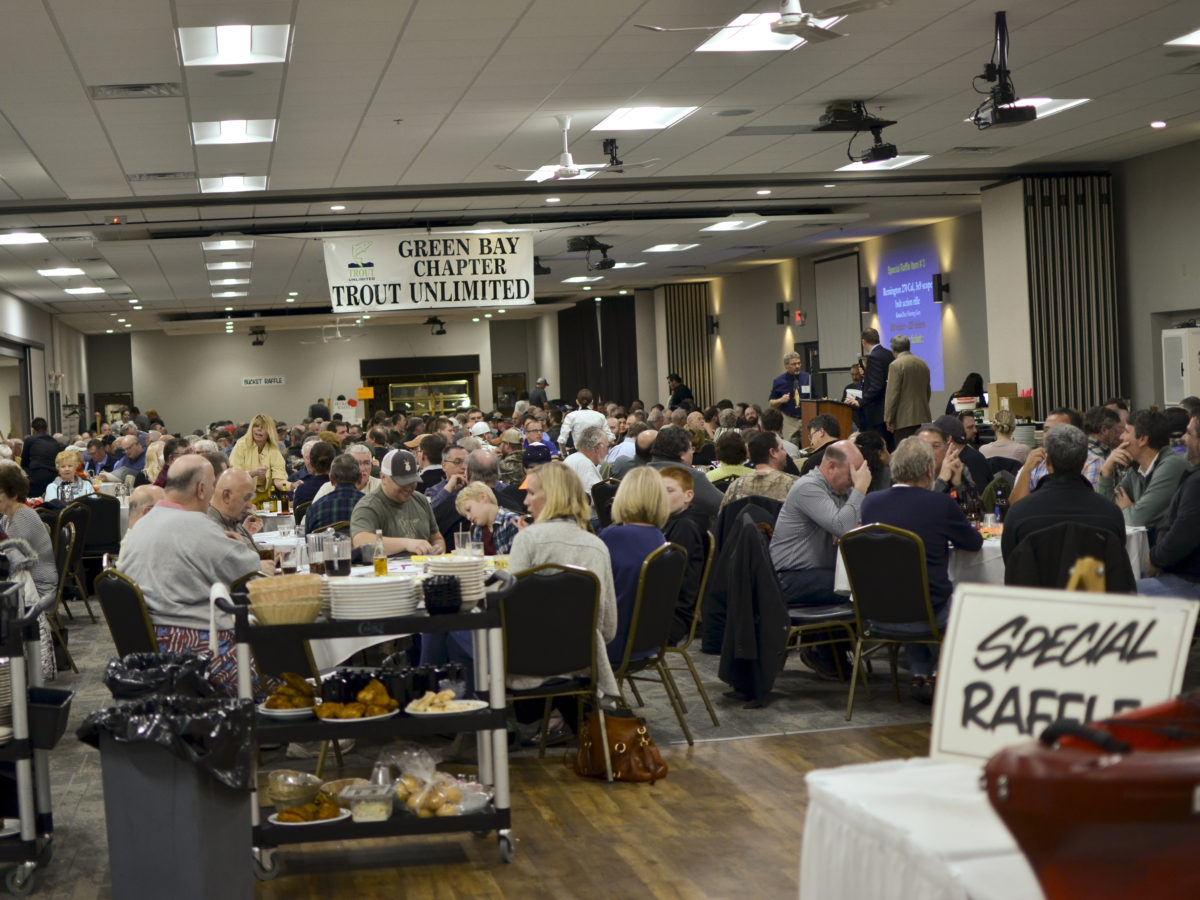 On Thursday February 16th, 2017 from 5-10pm at Stadium View Banquet Hall, Green Bay Trout Unlimited ( GBTU ) held its 42nd Conservation Banquet.
The attendees numbers are still getting tallied but it is believed to have come close to 350 which took nearly every seat available in the hall.
This is the primary fundraising event for the year and we have many to thank.  The list is long and it starts with all our 2017 Sponsors.
Immediately after thanking our sponsors we certainly have to thank Stadium View for hosting the event.  It seems to get bigger each year and the Banquet Hall staff does a great job on serving 350 hungry folks which is no small task.
Of course none of this would happen without the dedicated GBTU Banquet Committee that comes together each year to plan the event.  The 2017 Committee consisted of Bruce & John Deuchert, Staush Gruszynski, Dennis Gusick, Laurel & Wally Heil, Pat Hill, Jeff House, Jack & Arlene Koivisto, Adrian Meseberg, Lee Meyers, Matt Norem, Dave Ostanek, Mike Renish, Doug Seidl, Janet Smith, Jim & Kim Vanden Branden and Carla Zimmermann.
I know I'm forgetting someone, but I'd like to add a BIG THANK YOU to Harold Becks, Mitch Bent, Mike Decet, Roger Denil, Jeff Heil, Dani Long, Larry Mommaerts, Jon Ostanek, John Rybski, Gabe Siedl, John & Peter Tilleman and all the Green Bay FFA young folk for their volunteer support during the banquet as well.
We also have to pay our respects to Henry Koltz and Gary Stoychoff for their tag team efforts as the Master of Ceremonies.
Please check out the Gallery of Photos to get a better understanding of what this banquet is all about.
Thank you, thank you, thank you to everyone who made it possible.  GBTU would simply not exist without the generous support from the community and our volunteers.
Thank you and we'll see you at the upcoming work projects or youth education events.