Certified Chainsaw Training
Article written on 2017-05-04 by: Michael Renish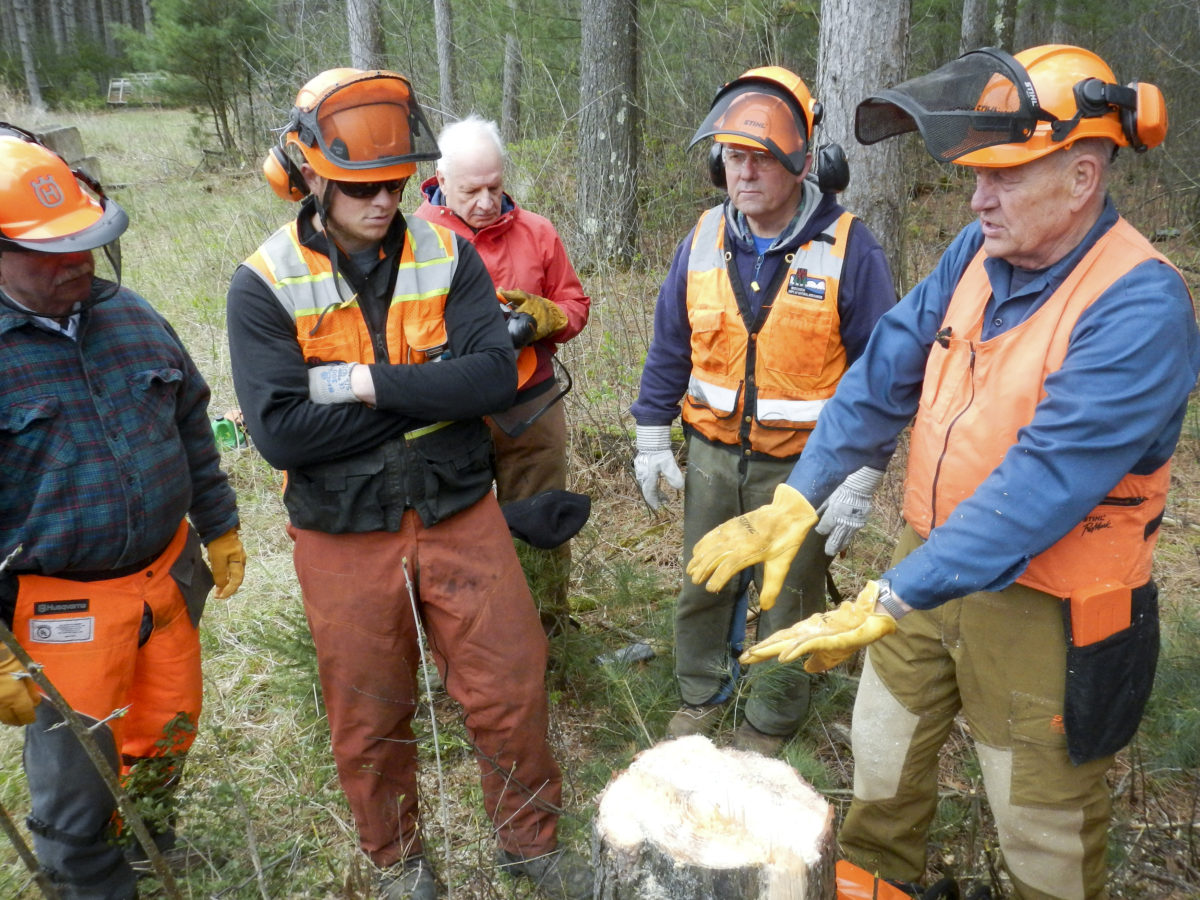 Certified chainsaw training at WDNR shop in Wild Rose
On April 29th, 2017, from 9am-4pm, Green Bay Trout Unlimited (GBTU), Oconto River Trout Unlimited (ORTU), Wolf River Trout Unlimited (WRTU), Central Wisconsin Trout Unlimited (CWTU) and the Wisconsin Department of Natural Resources (WDNR) all sent representatives to attend the certified chainsaw training at the Wild Rose WDNR operations center.
Instructor Lee Schauman, from Chainsaw Safety Specialists, LLC, was our lead for day.  Lee comes to us with over 30 years of knowledge in the field.
Shawn Sullivan, Trout Habitat Team Supervisor, put this training together and we all need to give him a huge THANK YOU for presenting us this unique opportunity.
Admittedly, I was skeptical going into the training thinking I knew a lot because of my years running a chainsaw.  Right at the outset, during and after the training it was abundantly clear on just how ignorant I was.  Lee, Shawn and the trained staff (Jamie Rupple & Kyle Kossel both experienced Fisheries Technicians) from the WDNR imparted a wealth of knowledge in 8 hours time.
Lunch was served up by Shawn and Kyle manning the grill.  Thank you !
In attendance were:
Jeff Wegand – CWTU
Doug Seidl – GBTU
Mike Renish – GBTU
Wayne Czypinski – ORTU
Don Wagner – ORTU
Trevor Hinz – WDNR Fisheries Technician
Vanessa Ericson – WDNR Parks & Recreation Technician
Andy Killoren – WRTU
Thank you to everyone who attended, Lee for sharing his copious knowledge and the gracious WDNR staff for hosting and pulling this together.
Check out the GALLERY OF PHOTOS.