July 16th, 2016 WPR
Article written on 2016-07-17 by: Michael Renish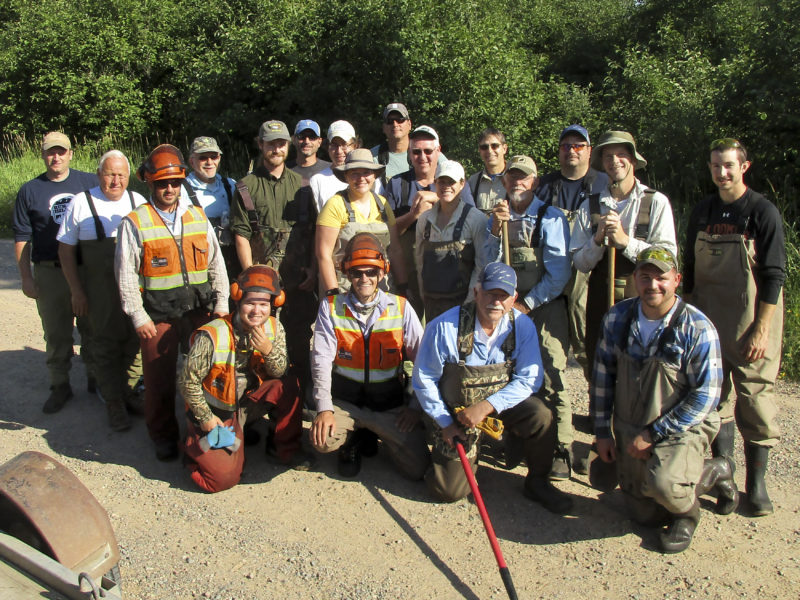 On July 16th, 2016, the Green Bay Chapter of Trout Unlimited (GBTU) partnered with Oconto River Trout Unlimited (ORTU), Northwoods Trout Unlimited (NTU), Wisconsin Department of Natural Resources (WDNR) and the United States Forest Server (USFS) to improve trout habitat on a section of the North Branch of the Oconto River located just north and west of Wabeno.
You can CLICK HERE for the GPS coordinates of the work project section on the North Branch of the Oconto River.  The section of stream we improved is located, both up and downstream, of where Round Creek dumps into the North Branch of the Oconto River.
Tom Moris, from the USFS serving the Chequamegon – Nicolet National Forest out of the Laona Ranger Station, lead the work project.  On his staff was Nathan Lamers and Brett Stuckert.  Also helping lead the subcrews were WDNR staff project lead Kyle Siebers and his crew of Doug Weber and DJ Loken.  All of these guys busted chops today and we simply could not get it done without their collective guidance and support.
The job consisted of removing tag Alders, bundling, installing those bundles and then use shovels to dredge sand substrate from the river channel to cover the bundles.  We also added large wood (logs and root-wads) to the river to create diverse, structure and trout habitat.
You can see from the Gallery of Photos that we busted chops from 8:30 – 12:30 and covered a lot of ground.  The trout are very happy that we improved this section.
We had a total of 23 folks working on a Saturday in July which was a tremendous showing for the typically difficult month of the year.  Those attendees included, in alphabetical order, Harold Becks, John Deuchert, Dennis Dugre, Byron Dugre (ORTU), Jeff Gross, Pat Hill, Jeff House, Paul Kruse, Nathan Lamers (USFS), DJ Loken (WDNR), Dani Long, Laura MacFarland (NTU), Collin Moratz (UWGB), Tom Moris (USFS), Matt Norem, Dave Ostanek, Jon Ostanek, Mike Renish, Doug Seidl, Jeremiah Shrovnal (UWGB), Kyle Siebers (WDNR), Brett Stuckert (USFS) and Doug Weber (WDNR).
Thank you to everyone who made this wonderful day possible. It was a great time of fellowship and working with like-minded conservationists. THANK YOU !!!