July 15th, 2017 WPR
Article written on 2017-07-19 by: Michael Renish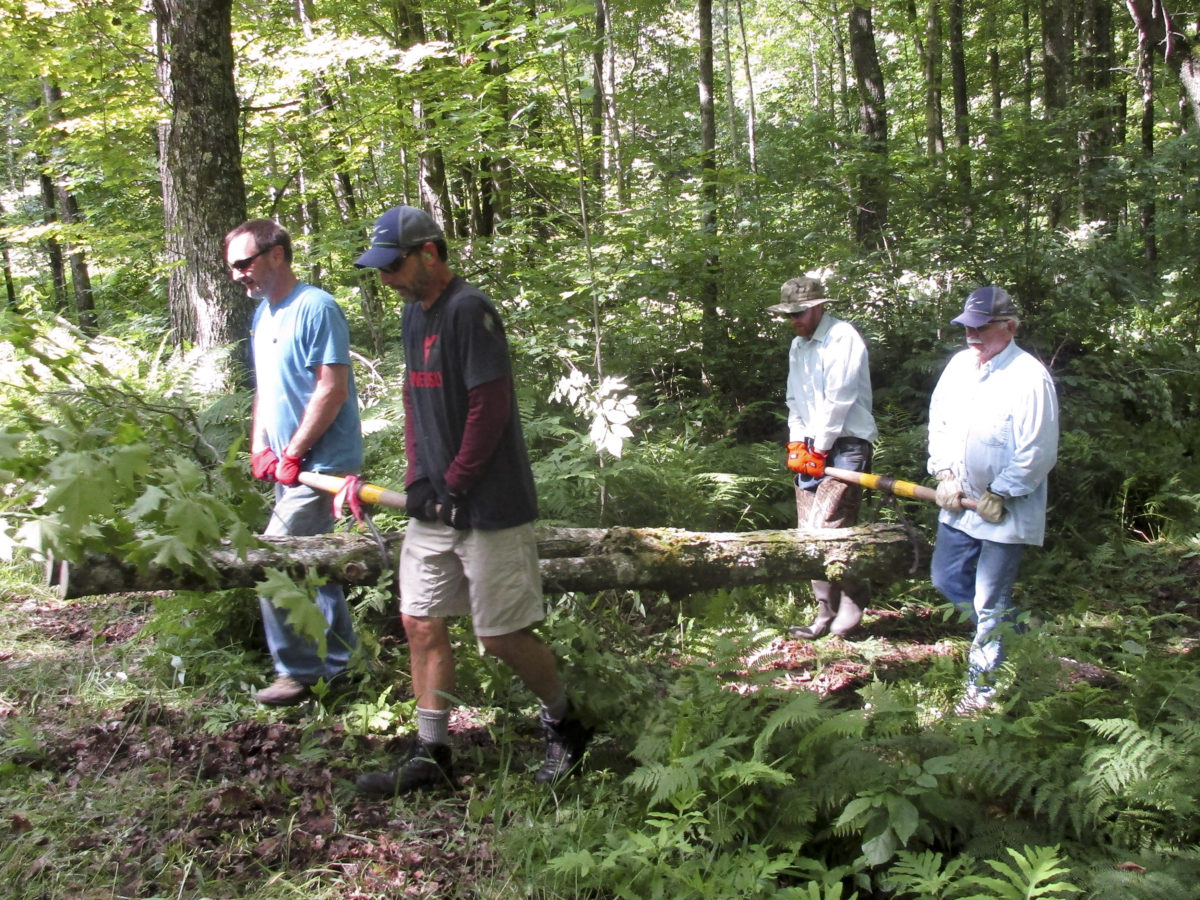 On July 15th, 2017, Green Bay Trout Unlimited (GBTU), Oconto River Trout Unlimited (ORTU), the United States Forest Service (USFS) Tom Morris (and his crew) and Wisconsin Department of Natural Resources (WDNR) Kyle Siebers ( and his crew ) teamed up to work on Shawano Creek.
We split into 3 sub-crews called the Laughing Loggers, Brush Busters and River Rats.  As the names imply, we brushed and made brush bundles as well as cut maple logs and staged them for placement in the creek.
Shawano Creek is a important tributary to the North Branch of the Oconto River.  The staged bundles will narrow and deepen the channel which will increase the velocity of the water.  That increased velocity will scour the bottom of sediment exposing the gravel substrate.  This process will ultimately lead to lower water temperatures.
We congregated in the parking lot, located in the SW corner of State Highway 32 and River Street, at around the usual 8am.  It turned out that all the folks got there on-time so we were coached up and rolling earlier than planned.  CLICK HERE for GPS coordinates to the parking lot.
The section we worked on is off of Knowles Road which you find by taking County Hwy C east out of Wabeno for about 6 miles to Knowles Creek Road.  Head south on Knowles Creek Road for about 3 miles to where Shawano Creek crosses the road. CLICK HERE for the sections of stream, both up and down of the crossing, we worked on.  From top to bottom of the sections was approximately 500 yards.
Volunteers needed to bring their chest waders, gloves, ear and eye protection, loppers, spade shovels and water.
After the work project, we had lunch at Pichotta's Pub & Grub. Here are the GPS COORDINATES to Pichotta's.
Check out the GALLERY OF PHOTOS from the work project.
In attendance from GBTU was Harold Becks, Chris Brunette, Bruce & John Deuchert, Dennis Dugre, Aled and Ian Griffiths, Lee Meyers, Dave & Jon Ostanek, Mike Renish, Doug Seidl and John & Pete Tilleman.  Representing ORTU was Byron Dugre.  From the WDNR was Kyle Siebers and DJ Loken.  Rounding on the crew, from the USFS, was Tom Morris, Mackenzie Matthews and Thomas Schults.
THANK YOU !!!! to everyone who helped make this work day a productive and memorable one.
THANK YOU !!!