June 15 – Work Project #2
Article written on 2019-05-22 by: Adrian Meseberg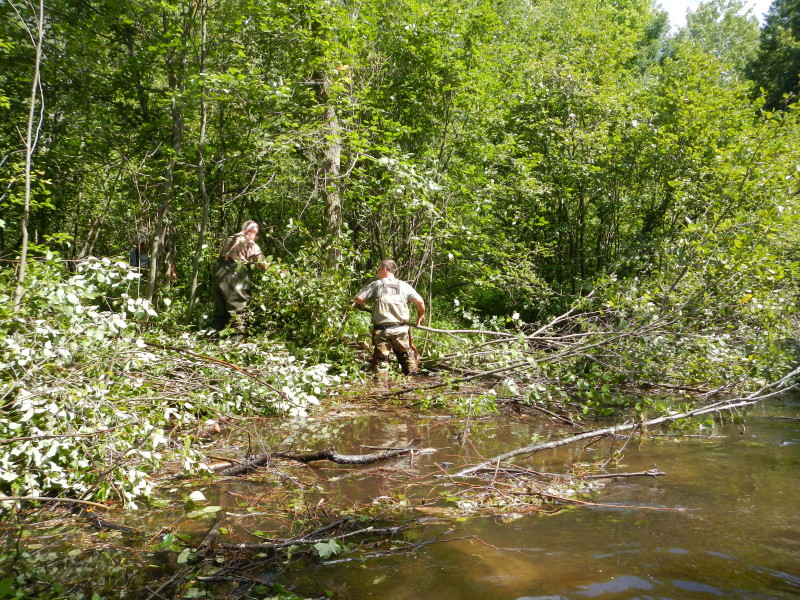 The information below is from our work project chair Paul Kruse…
We will meet at the DNR LANGLADE RANGER STATION, W1961 HWY 64 WHITE LAKE WI 54491 at 8:30 am (sharp). See directions here!
Please bring along waders, gloves, loppers and if you happen to have one, a small john boat.
It will be on the Evergreen River above the Menominee Reservation This section of the Evergreen had 1.7 miles extensive work conducted on it from 2009-2014. Work included dig and pile channel shaping with a hydraulic excavator, large wood additions and brush bundling. Most of the brush bundling was completed in the summers of 2012 and 2014. The section that could use some final touches is the brush bundling sections.
Roughly 1800 feet of stream will be lightly bundled as needed. Material is limited so we will be using a combination of Christmas trees and tag alders. This section stream has a high bed load of sand and silt which makes it a perfect candidate for bundling. Christmas trees are staged along the stream. Most of the work will consist of hauling and placing trees in new and old bundles.
The Antigo crew will be using the piranha mini dredge to fill the newly created bundles. This will speed up the establishment of the banks and will maximize the use of material by not having to refill the bundles in future years.
We will also be jetting and anchoring large wood in the stream bed. The wood will consist of logs and root wads.
In addition, we will also be doing some touch up brushing on the old brush bundles. Only tag alders that are on outside bends or extend over half the stream channel will be cut.
The project site is located on the Evergreen River off CTY M just above the Menominee Reservation.
Work project volunteers please respond as soon as you plan on going, so we have a lunch count.
Let me know if you have any questions.
Regards,
Paul Kruse-GBTU Work Project Coordinator
500 Saint Jude St
Green Bay, WI. 54303
(920) 639-2361