June 17th, 2017 WPR
Article written on 2017-06-25 by: Michael Renish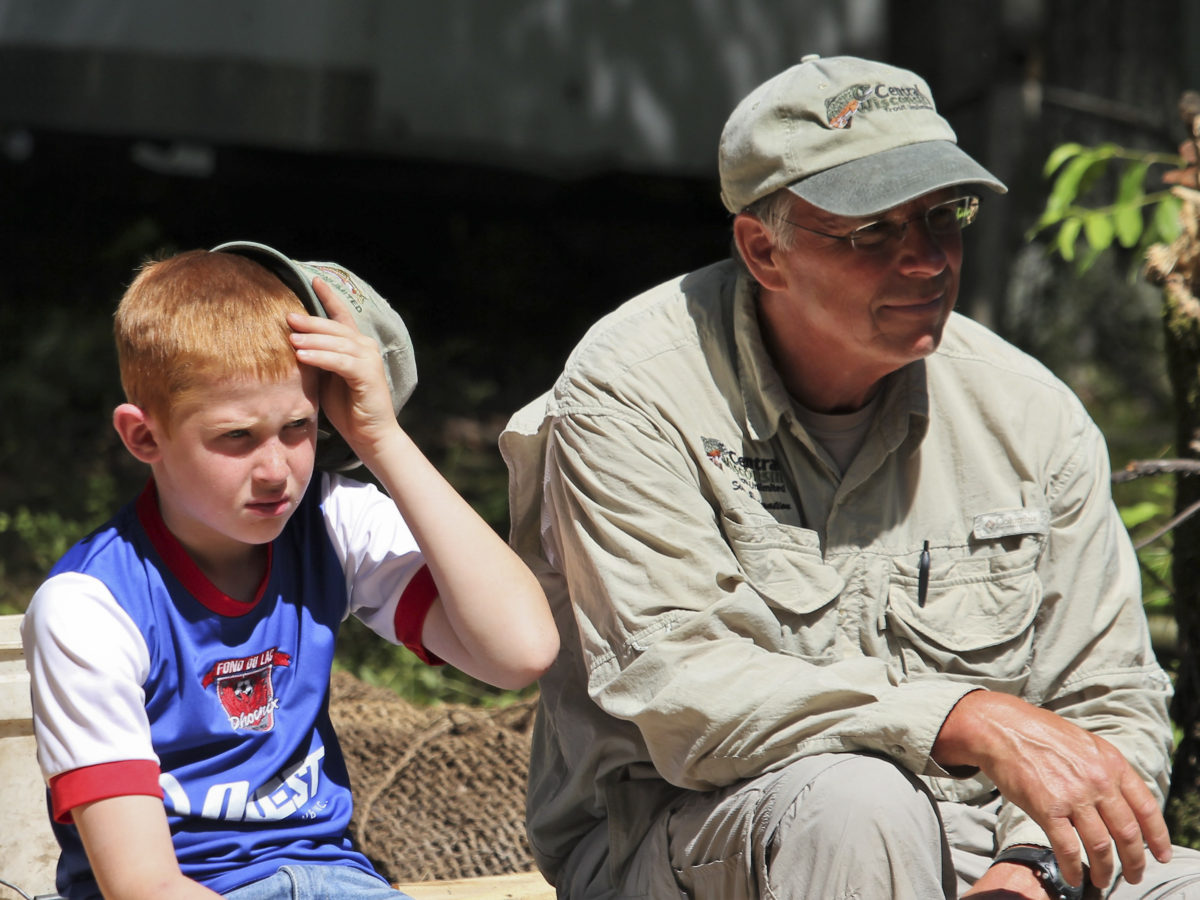 June 17th, 2017 White River GBTU Work Project Report
Please find below the Work Project Report (WPR) regarding work done by Green Bay Trout Unlimited (GBTU), Central Wisconsin Trout Unlimited (CWTU), Fox Valley Trout Unlimited (FVTU), Oconto River Trout Unlimited (ORTU), Marinette (MTU) and 9 Wisconsin Department of Natural Resources (WDNR) on June 17th, 2017 to work on the west branch of the White River just southwest of Wautoma.
The work day consisted of fishability brushing, brush bundling, log sill construction, Large Woody Debris (LWD) manipulation and bank cover construction.
This section of state land was purchased around five years ago.  Prior to state ownership the stream received very little, if any, direct influence by the hand of man.  This stretch of stream was victim to some very heavy storm damage some years ago.  While this storm damage added a ton of great woody habitat to the stream it made things nearly unfishable.  Some areas were even degraded due to the sheer volume of wood thrown into the stream.
To find the base camp you'd take Highway 21 west out of Wautoma 2 miles to County Y. From there you'd go about .8 miles south on Y and locate the Public Access gate entrance east of Y Click on the GPS COORDINATES to locate the entrance off Y. Drive through the gate and park at the end of the access road.
The tools for the job included chest waders, gloves, eye and ear protection as well as loppers. All other tools are provided by the WDNR.
Dennis Drazkowski, the work project coordinator for CWTU, along with his committee, provide a fried chicken lunch with all the sides.
Many of the members, who had enough energy, stayed over to fish the Hex hatch. The third week in June is towards the tail end of the heavy hatches, but the trout were still actively feeding at night on the White River, West Branch White River, Willow Creek, Pine River, Mecan River, Chaffee Creek, and the Waupaca River.
We set records for the number of WDNR personnel (9) and volunteers as a total (43).  The WNDR crew included Steve Devitt, Johnathan Pyatskowit, Kyle Siebers, DJ Loken, Shawn Sullivan, Kyle Kossel, Jamie Rupple, Wes Robl and Trevor Hinz.
Members from CWTU included Dennis Drazkoski (and grandson Henry 8th), Ira Giese, Dennis Geier, Mike Niemcyzk, Rodger Surprise, Mike Sandretto, Mike Maier, Michael Daton, Jeff Wegand, Robert Howell, Ethan Sullivan, Eric Kropp, Grace Pable, Chris Northway, Ken Maciejewski, Tom Meyer, Paul Feldhave and Dave Conroy.
From MTU was Doug Erdmann.
From ORTU was Wayne Czypinski.
From FVTU were Terry Ziegler, Joe Bach, Zach Kingseisen, Roger Genske and Steve Heuser.
Representing GBTU were Doug Seidl, Gabe Seidl, Staush Gruszynski, Chris Brunette, Jeff House, Dave Ostanek, Jonathan Pyatskowit Jr. and Mike Renish
Check out the GALLERY OF PHOTOS.
Check out some of the VIDEO from the work project.