June 19 – Fishing with the Boy Scouts Summary and Pictures
Article written on 2019-06-25 by: Adrian Meseberg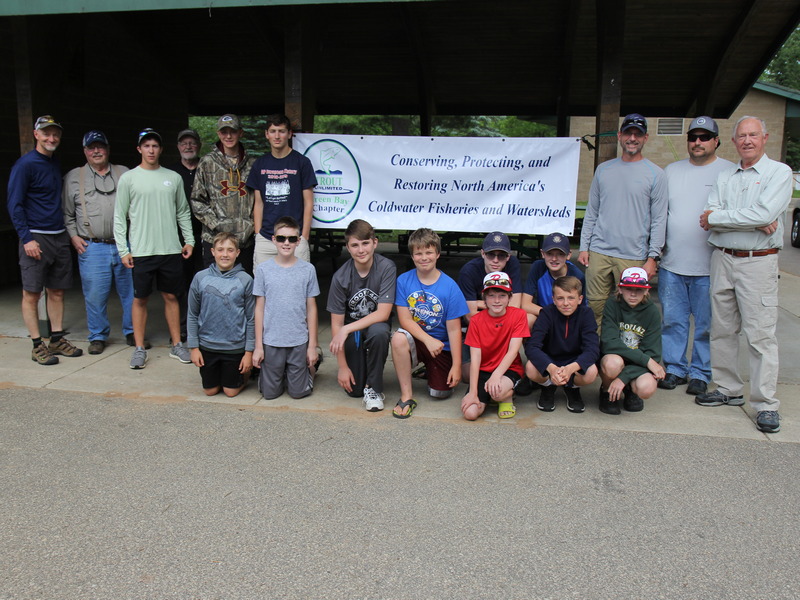 According to the Boy Scouts of America website "Scouting is fun, hands-on learning and achievement that puts kids in the middle of the action and prepares them for today – and for life. The Boy Scouts of America is one of the nation's largest and most prominent values-based youth development organizations, providing programs for young people that build character".
On Wednesday, July 19th Green Bay Trout Unlimited helped a group of ~18 Pulaski Boy Scouts learn all about fly fishing. The teaching included everything from the fishing rules and regulations through Knot-tying, Insects, fly-tying, casting and more.
The Scouts broke into smaller groups for a better student/teacher ratio. This also helped keep things rolling and on time. The boys spent around 45 minutes at each station. The evening concluded with the scouts applying their newly learned skills on Shawano Lake. Several of the scouts were awarded their Boy Scout Fly Fishing Merit Badge for their involvement.
GBTU chapter volunteer included…
Dan Simons
Dave Ostanek
Jack Koivisto
Paul Kruse
Gary Gillis
Dennis Nonnemacher
Aled Griffiths
Jerry Zwicky
A huge THANK YOU to all who made this a memorable day for those young men !!
*Thanks Dan Simons for setting this up and thanks to Dennis Nonnemacher for taking the photos.*