Restoring Habitat: Visions from the Field
Article written on 2017-03-02 by: Randy Rake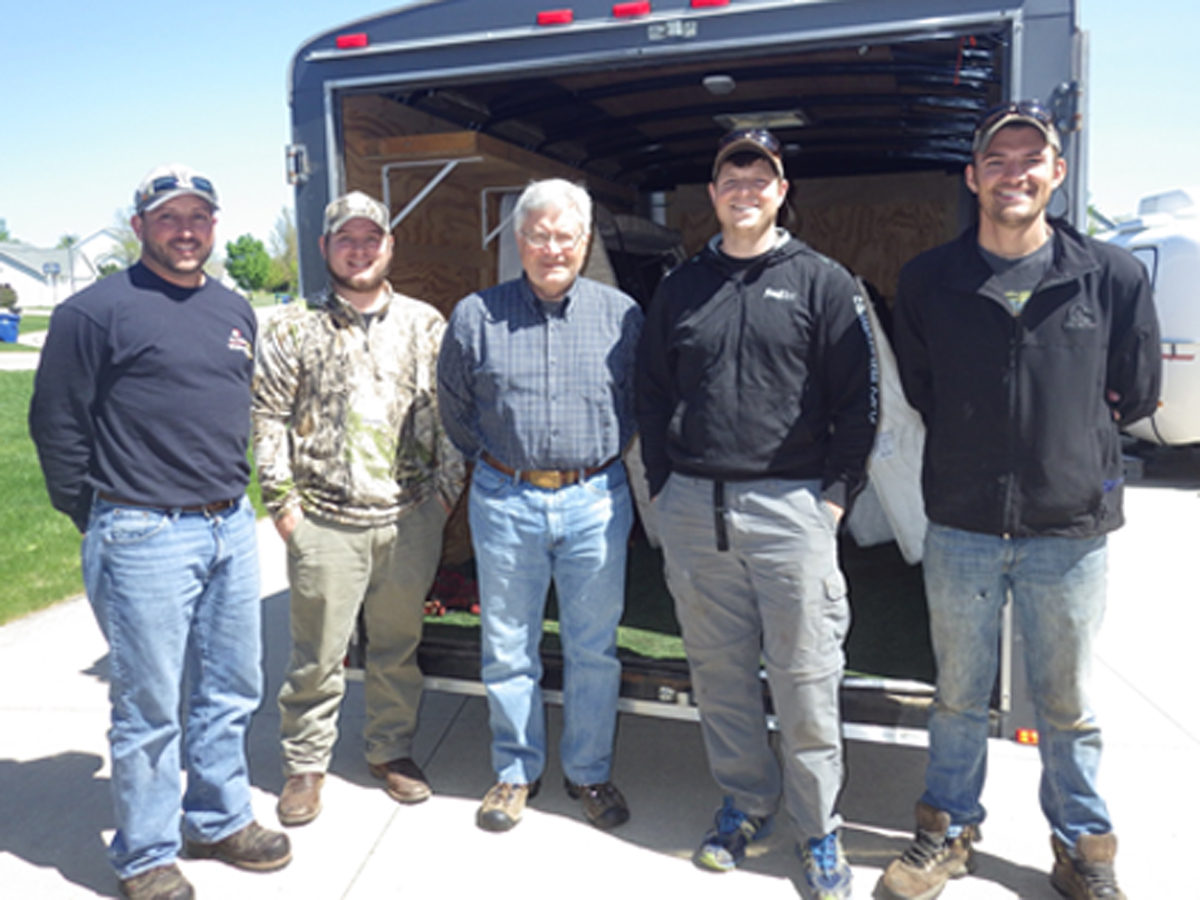 Habitat Crew: Doug Weber, DJ Loken, Fox Valley TU's Tom Lager, Kyle Kossel and Kyle Siebers
by Doug Weber, DNR Habitat Crew: This article first appeared in the Winter 2017 edition of Wisconsin Trout
In the summer of 2016, I had the opportunity to work as a fisheries technician for the Wisconsin Department of Natural Resources. I was assigned to a three-man crew based out of the Lakewood, which was responsible for improving trout streams in northeast Wisconsin.
This was my first job in the field, as I had just graduated that spring from college. I wasn't the traditional student. I was in my mid 30's and had been in sales for several years prior to going back to school. I went back to school because I have a sincere passion for Wisconsin's water resources. I felt that I needed to do something to preserve our state's outstanding freshwater resources for future generations. With that vision in mind, I wasn't expecting to be able to make such an immediate impact. Not only is our work benefiting future generations, it is also enjoyed by current generations of anglers, not to mention the fish.
A day in the life
The average day for us started at the breakfast table. We would look over the maps and discuss our goals and objectives for each day. We also talked about the previous night's fishing adventures. Being away from home, living with your coworkers and not having TV or internet can be difficult. We used fishing to pass the time. With miles of trout water, and lakes everywhere, we had plenty of fishing locations to choose from. By far, the best fishing was in the streams.
We initially fished areas that had some previous habitat work, and we quickly realized the natural beauty of the area. Unfortunately, a lot of it was not accessible. Many promising-looking streams were choked with tag alder, which was so bad in spots that it was impossible to fish.
Stream work projects begin
A couple weeks into the summer we had our first TU work day. We held work days on the third Saturday of every month.
We worked on the South Branch of the Oconto River, just off of County Highway T. This is a barrier-free area, with multiple fishing platforms.
The event was to start at 8 a.m. We showed up about 7 a.m. to go through another site evaluation and devise a plan to get as much done as possible with the amount of people we would have. I did not know how many people would show up or the amount of work they were willing and able to do. People started arriving around 8:30 a.m. and for the next 30 minutes there was vehicle after vehicle pulling in.
There were so many vehicles that we had to come up with an alternate parking area. I was astonished by the number of people we had. We ended up with about 20 people who were all prepared and willing to get into the water and do whatever they had to do.
We divided the group into crews. Each DNR staff person had three to four people. We carried our chainsaws in the river and started cutting brush while the TU members grabbed what we cut and pulled it off to the side. Those TU members that were not assigned to a DNR employee were tasked with clearing the walking trails to the fishing platforms. In a few hours we had all the trails cleared and we had cleared nearly 600 feet of brush.
I was amazed and couldn't get over all the people who not only donated financially to the organization, but were willing to work hard as well. This really showed me how passionate trout people are. That motivated me throughout the summer. Knowing how many people would be impacted by our work was very rewarding. TU is one of the reasons we are able to do what we do. TU provided us with funds to pay for our positions. Thank you to TU and all of its members.
Why we work
We are working to improve stream conditions to make it more suitable habitat for the trout, but we are also working for the people who pay for the opportunity to catch trout. It doesn't matter if you use a fly, spinner or live bait to catch your trout. We need to make sure we have areas for all kinds of fishermen, young and old, novice and veteran, worm and fly anglers. We need to make sure some areas are not the easiest to fish so the fish have some sort of refuge. We also need to have other areas that are easily fishable.
The work area locations were based on fish populations, accessibility to the public areas and an overall habitat assessment. In areas along undercut banks and with previous bank cover work, we removed the brush and often used it to build brush bundles. We were always looking for invasive exotic species such as buckthorn and honeysuckle. Thankfully, there is not much of it in this area of the state, and with enough persistence we can keep it that way.
Simple and effective improvements
Brush bundles are a great way to utilize the brush that we cut. We would look for areas where the stream widens and slows down. We would stick the butt end of the brush into the stream bank and weave in more brush until it was the length and height we wanted. The bundle will collect sediment and eventually become new stream bank. That narrows the stream and increases flow, scouring the stream bottom and revealing the gravel substrate which is preferred spawning area for trout.
Due to the geology of the area, we were not always able to put bundles in some spots. However, that didn't stop us from creating suitable habitat. In areas where bundles couldn't be used, we made log jams, sweepers and cross logs to help with bank stabilization and sediment removal, thus improving fish-holding capabilities.
Last summer was an extremely rewarding experience. I not only spent every day working in the water, but I was making sure that the trout in the stream have the habitat needed to survive and flourish. I also learned how to look at this fishery through a wider lens. These streams are not just the water and soil around them. They are a reflection of the entire watershed and the people who enjoy them.