September 9th, 2017 WPR
Article written on 2017-09-20 by: Michael Renish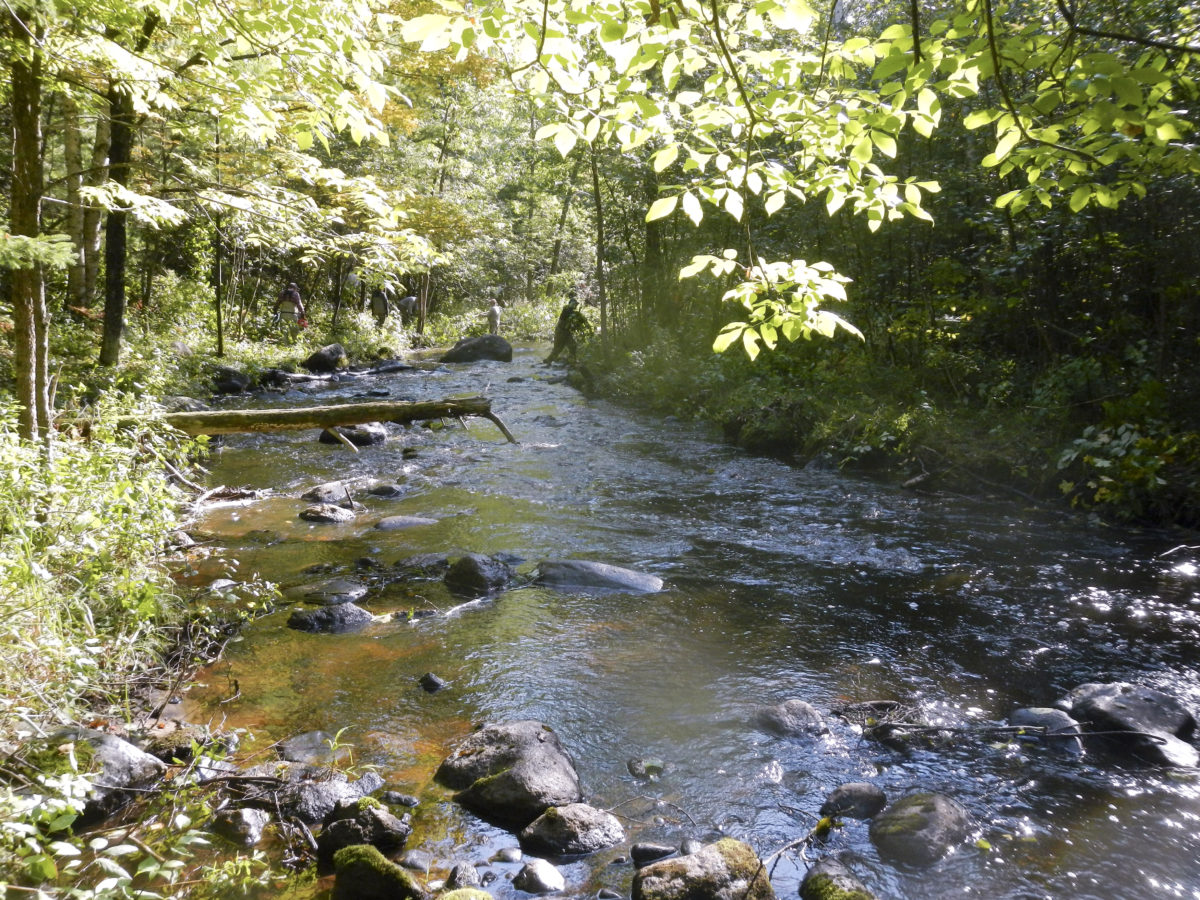 September 9th, 2017 Work Project Report (WPR) on Eagle Creek
Members from Green Bay Trout Unlimited (GBTU), Oconto River Trout Unlimited(ORTU), Marinette County Trout Unlimited (MCTU), Fox Valley Trout Unlimited (FVtU) and the Wisconsin Department of Natural Resources (WDNR), led by Kyle Sieber's team out of Lakewood, got together to bust chops in improving a section of Eagle Creek in Marinette County.
This stream section has a higher gradient than we're used to in NE Wisconsin. Earlier this summer Chip Long and his Peshtigo crew shocked this section and came up with good number of Brook Trout. Several of the Brook Trout had impressive size and double digit fish were not uncommon.
This section of Eagle Creek, with its mild rapids and tumbling water, are beautiful and simply needed some brushing and improved access for better fishability.  The crew made this section much better and more visible by the brushing accomplished
For a very close proximity to the section of Eagle Creek brushed, CLICK HERE .  Crews were split  up into 3 and worked from the area where the river gets really close, just south of the the intersection of Tower & Thompson Roads, up to just south of this 'pin' shown in the link above.  It's probably close to 800 yards.  This is just the start of our work here and we plan to continue this effort over the next 3 years to keep chipping away at the improvements.
All of us parked on the road because the parking area, seen on aerial photos, is large but it is down a steep grade off of the road. Thompson Road is a Marinette County Forest road so it shouldn't see a whole lot of traffic.  There was plenty of room on the shoulder to park.
The volunteers brought their typical gear including chest waders, gloves, ear and eye protection, loppers, spade shovels, hand saws and their own beverages in their reusable water bottles.  GBTU has pretty much moved to bring several gallons of great filtered water for refill, but most of the volunteers had their own stuff.  This really helps reduce plastic waste which is great.
Chain saws were selective used by certified TU members (Wayne Czypinski, Doug Seidl and Mike Renish).  Mostly loppers were the tools of the day with some folks, me, getting exhausted using Alder hand whackers.
Lunch was graciously picked up by Marinette Chapter at the Bullpen in Athelstane at the intersection of CTH C & 'What used to be CTH A'
A huge thank you to all the 19 participants which was a record attendance for a GBTU September work project.  We moved it to the 2nd weekend in September to avoid, entirely, several opening season the 3rd week of September.  Those in attendance included Harold Becks, Chris Brunette, Wayne Czypinski, John Deuchert, Jose Diaz, Doug (Big Dougie) Erdmann, Aled & Ian Griffiths, Wally Heil, Pat Hill, Trevor Hinz, Jeff (Big) House, DJ Loken, Jon Ostanek, Jonathan & JJ Pyatskowit, Mike Renish, Doug Seidl, and fearless leader Kyle Seibers,
NOTE:  THANK YOU DJ LOKEN FOR YOUR UNTIRING WORK AND LEADERSHIP FOR GBTU WORK PROJECTS.  WE ARE MISSING YOU ALREADY.  MISSOURI IS A BETTER PLACE WITH YOU IN THE STATE !
THANK YOU TO ALL !
Please check out the GALLERY OF PHOTOS.