2014-Aug-16 Wausaukee River
Article written on 2015-01-06 by: Mike Renish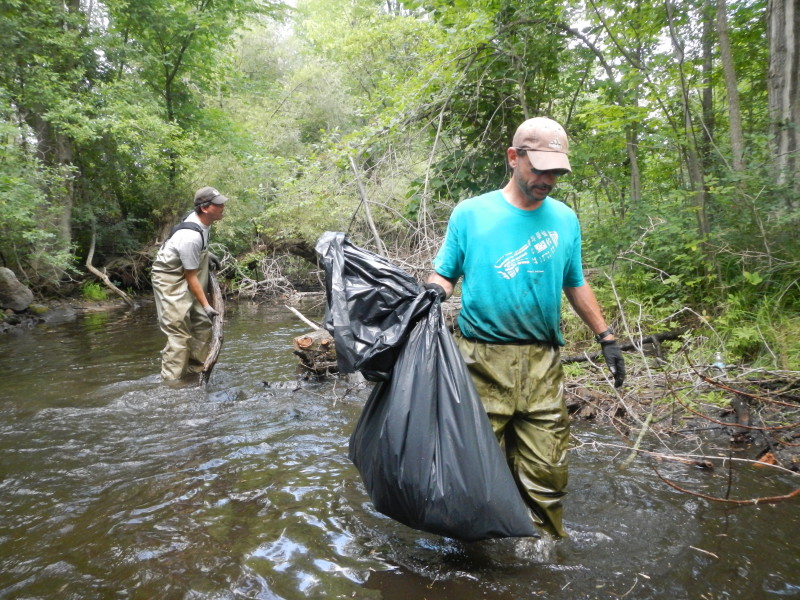 Our last project of the 2014 summer was another successful event.  On August 16th, fourteen members of Green Bay Trout Unlimited (GBTU) removed six blockages on the Wausaukee River.  Check out our PHOTO GALLERY to see all the pictures.
We were lead by Wisconsin Department of Natural Resources (DNR) habitat specialist Cliff Sebero and trout habitat restoration lead Jonathan Pyatskowit.  John's son JJ joined in the cleanup as well.
With a group of this size we were able to break into 2 teams allowing us to take on more obstructions.
The stream blockages were caused by larger trees fallen across the stream during high wind events, and over the years smaller woody debris lodged under the trees that blocked stream flow and even caused bank erosion.
After 4 hours of work, the results are a better flowing, more uniform stream and less bank erosion on the lower Wausaukee. Also, two garbage bags of litter were picked from the water and two large tires removed.
This section of the Wausaukee River is owned by the Village of Wausaukee and has hiking trails connecting the stream to a campground and picnic area. Obviously, this is a fairly "high public use" that welcomes any help which will make trout fishing better. We "THANK" the Village of Wausaukee for allowing us to work on this stream segment that flows through their property.
Green Bay TU members who did an outstanding job included Adrian Meseberg, Jeff House, Mike Renish, Doug Seidl, Dennis Gusick, Pat Hill, Jeff Gross, Winston Ostrow, Dave Ostanek, Jeff Stone, Mike Stone, Noel Craig, Lee Meyers and Paul Kruse. We were lead by DNR specialists Cliff Sebero, Jon Pyatskowit and his son JJ.
Thanks to everyone who came, and a big thanks to Lee Meyers for lining up all of the summer work projects !