March fly tying at Cabelas
Article written on 2015-03-15 by: Mike Renish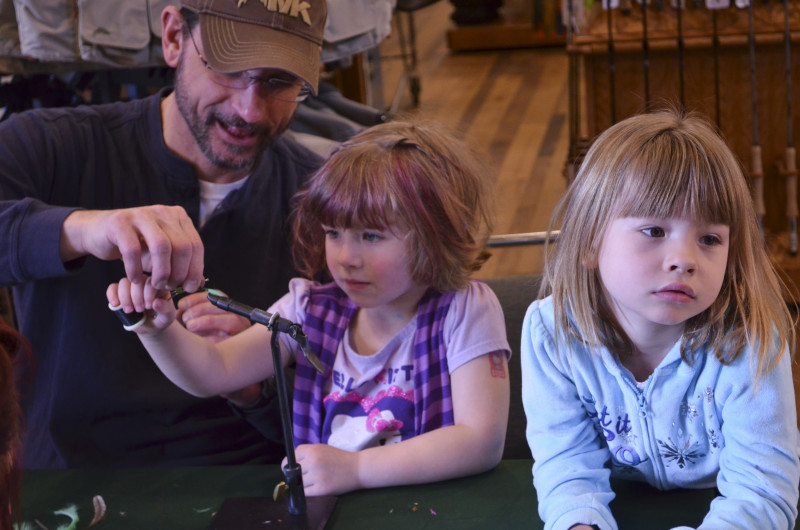 On March 14th and 15th, from 11am to 2-pm, Brian Mease, Adrian Meseberg, Dave Ostanek, Paul Kruse, Dori Goddard, Alan Jamir and Mike Renish hosted the second 2015 fly tying clinic at Cabelas in Green Bay (Please check out the Google Map for directions to the store).
We had have approximately 5 dozen folks, of all ages, trying their hand at fly tying over the two days.  Saturday was especially busy most probably due to the girls' state basketball tournament held at the Resch Center.
We ended up creating dozens of Packer Wooly Buggers that were a big hit with the kids, young and old.
Brian Mease  was busy tying his famous turkey leech as well as the Murdich and Bart-O minnows.
Al Jamir joined in on Sunday and tied up some leech patterns as well as brought a bag, which is now empty, of Gummy Bears.  I'm not sure if the kids enjoyed the fly tying or just listening to Al whilst munching on Gummy Bears.
As a special note, Adrian and Dave went 'off-road' this time around and were tying up some 'funky chicken' wooly buggers.  They used whatever material they had for the tail, body and hackle.  The colors and variations were very innovative indeed and the kids' loved them.  There is nothing like bright colors on a fly pattern to catch fisherfolk's imagination.
We'd like to also thank Scott Anderson and Collin Hedron of Cabelas for their support.  We could not have pulled off such a successful event without those guys making time to schedule this event and have everything set up perfectly.
Don't forget to check out the Photo Gallery.
THANK YOU TO EVERYONE !!!!