2021 NE Regional Meeting Summary
Article written on 2022-01-03 by: Adrian Meseberg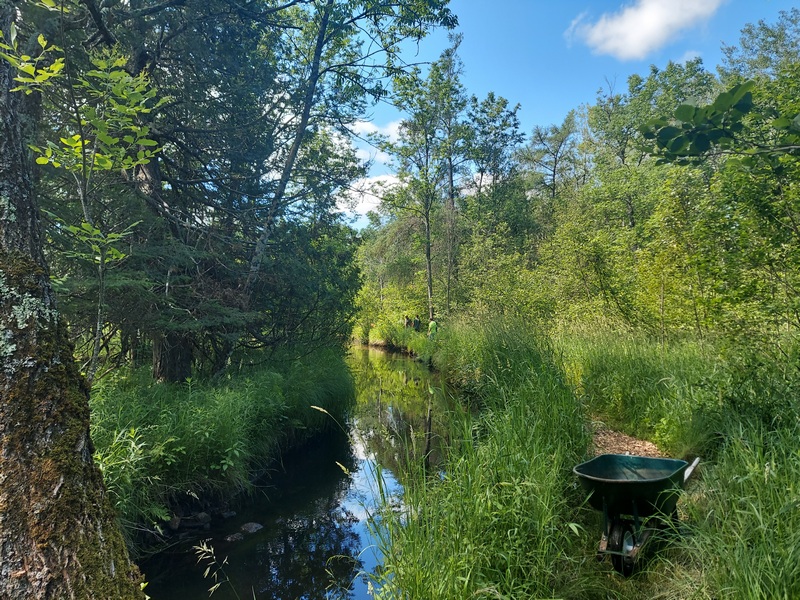 The first Saturday of December is an important date when it comes to carrying out Green Bay Trout Unlimited's (GBTU) mission to conserve, protect, restore and reconnect our coldwater fisheries. This is the Northeast Wisconsin TU Regional meeting.
The forum brings together multiple area TU chapter's, the Wisconsin Department of Natural Resources (WIDNR), the United States Forestry Service (USFS) and Trout Unlimited Great Lakes Stream Restoration (TU GLSR). This is an opportunity for the WIDNR, USFS and TU GLSR to present trout habitat related projects that need funding for the upcoming year. Here is where GBTU and our sister chapters step in. We work together to pool our revenue in order to make sure the work can be completed. This structure allows each of us to maximize our financial resources for a greater impact. As many of us know, the coldwater resources in our region are not spread out evenly. The area GBTU covers (Brown and Door Counties) has very little. The Wisconsin northwoods has much more. The same is true as far as each chapter's dollars are concerned. In many cases, chapter's with less money are home to better quality trout water and vise versa. By working together we get a bigger "bang-for-our-buck."
Wisconsin TU Northeast Regional Chair, Dale Lange, called the virtual meeting to order at 9:04a on Saturday, December 4th. The previous minutes were approved followed by reports/updates on state TU efforts. These included the WI TU Youth Camp (Linn Beck), Land Access/Purchase (Kim McCarthy), Trout-in-the-Classroom (Kim McCarthy) and the state TU Friends' Grant program (Kim McCarthy). Following this was 2021 trout stream work project updates by the WIDNR, USFS and TU-GLSR. Next was annual reports by the TU chapters. It was now time to get to the central point of the meeting; the 2022 funding requests.
Below is a summary of these requests, followed by where the funding would come from (courtesy of Dale Lange). GBTU has a 2021-22 budget of $12,000 to go towards these projects. All funding requests were met !!
WDNR Lakewood (Jonathan Pyatskowit / Shawn Sullivan) – $15,000
The NE habitat crew is requesting $10K to hire a couple of LTE's for the summer brushing crew. With the funding that was provided last year, the 2021 crew worked on the Wausaukee River, S. Br. Oconto River, McCaslin Brook, and Waupee Creek.
We are also requesting $5K towards a Kubota UTV. After borrowing Wild Rose's machine, this is something that would make our work much more efficient. A tracked UTV provides excellent access with minimal disturbance and the Kubota's also have the ability to run hydraulic attachments for pounding earth anchors or running underwater saws. We have some funding lined up but TU funding can help us get over the hump.
GBTU – $6500 ($4000 towards crew / $2500 towards UTV) + $2000 from a Friends Grant

Oconto River TU – $2000 (crew) + $2000 Friends Grant
Marinette TU – $2000 (UTV)
Wild Rivers TU – $500
WDNR Antigo (Tayler Curran / Dave Seibel) – $14,000
Antigo's request is for $10,000 to hire a couple of LTE's for the summer brushing crew. $2000 for dredging fuel and $2000 for a new dredge work boat.
Antigo TU – $6000 ($2000 towards crew / $2000 towards boat / $2000 towards fuel) + $2000 Friends Grant
WI River Valley TU – $2000 (crew) + $2000 Friends Grant

GBTU – $2000 (crew)
TU GLSR (Chris Collier) – $5000.
This funding is for cost of interns working with Surveys of stream culverts and connecting the streams. Continuous projects and works with other agencies.
Marinette TU – $2000

GBTU – $1500

Wild Rivers TU – $1500
WDNR Ashland (Zach Lawson) – $3500
The project was spearheaded by Justin Holmes of the Douglas County Forestry Department. Justin has created a temporary anglers drive and parking area along the Ounce River in Southern Douglas County. The Ounce flows south into the Totagatic River watershed. His request is for $3000 for gravel for the drive way. Additionally, Our chapter will support this project area with work days to clear angler trails and with educational signage related to invasive and safe catch and release practices.
GBTU – $1500

Marinette TU – $1000
Wild Rivers TU – $1000
Total Donations Sought – $37,500 (everything was covered)
GBTU – $11,500 (plus $2000 Friends Grant)

Antigo TU – $6000 (plus $2000 Friends Grant)
Marinette TU – $5000
Wild Rivers TU – $3000
Oconto TU – $2000 (plus $2000 Friends Grant)
Wisconsin River Valley Tu – $2000 (plus $2000 Friends Grant)
*A huge thank you to the agencies/departments and the work they do. Another big thanks to the TU chapters who help make this possible and TU NE Regional Chair, Dale Lange, for running a great meeting. A final thanks goes to all of our supporters. Without you we would not be able to make the impact we do!*