July 20 – Work Project #3
Article written on 2019-07-10 by: Adrian Meseberg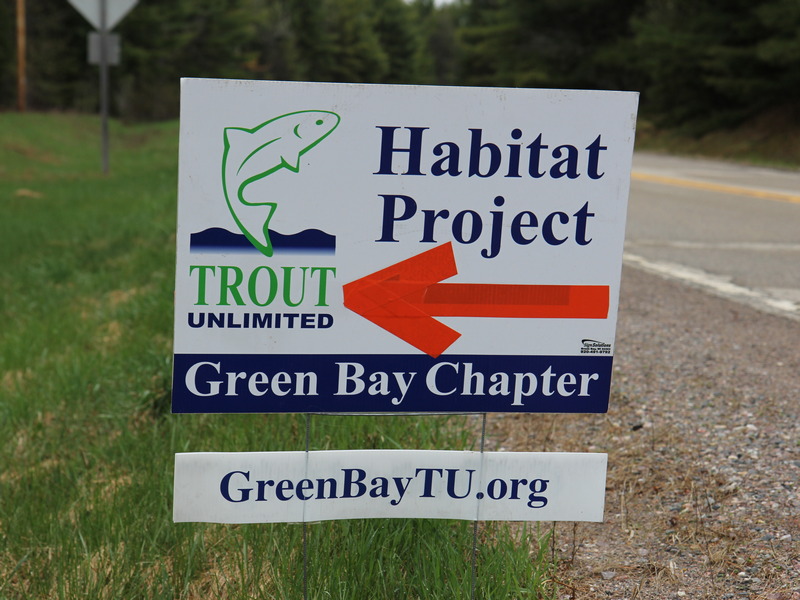 The message below is from an email sent by GBTU Work Project Chair Paul Kruse on July 7th, 2019…
Well, we have 2 behind… and 2 more in front.
For the people that made the last project …Thanks! We had another great turnout. We had to deal with the high water, but we had higher spirits, so we accomplished all that we set out to do! Stay tuned, we may have an additional work project on the Evergreen in August?
Please see details below for our next work project on Saturday, July 20th:
It will be with the U.S. Forest Service's Fisheries Biologist Tom Moris.
We will all meet at the U.S. Forest Service – Laona Ranger Station, 4978 Highway 8 West, Laona, WI 54541 at 8:30am on the 20th.
We will have access to a bathroom while we gather and fill out the usual paperwork. As always if you plan on attending, please make the effort to notify me in advance,that way we can properly plan for lunch.
We'll be working on Swanson Creek – a small stream a couple miles southwest of Laona doing fishability brushing, brush bundles and likely moving logs for habitat structures.
We'll be working on the section of stream that is in the southwest part of the attached map.
The access road off State Hwy 32 is 2 ¾-3 miles south of Laona it is called Borske Road [Forest Road 2366] (a gravel road) going west for about ½ mile then take a right going north/northwest on Forest Road 2366A. Follow that back to the worksite.
This is a fairly straight forward project so no specialize equipment or tools will be necessary.
Please bring the usual chest waders, gloves, bug protection, and shovels.
If you have any questions or concerns, please feel free to contact me.
Happy 4th of July,
Paul Kruse-GBTU Work Project Coordinator
500 Saint Jude St
Green Bay, WI. 54303
(920) 639-2361