Kids' Fishing Day Summary
Article written on 2015-07-09 by: Lee Meyers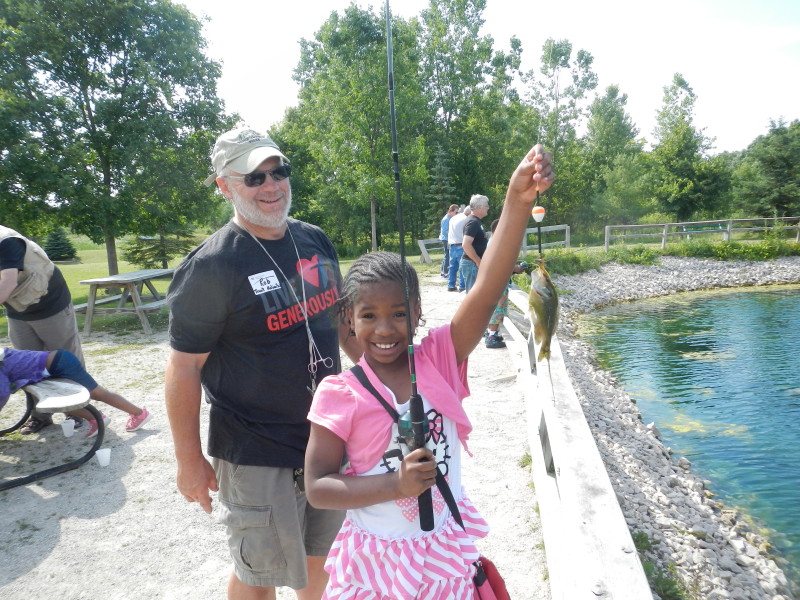 Another successful Kids Fishing Event was held at the Izaak Walton Environmental Center ponds and shelter.
Due to the great weather and past positive experiences, this year's event had one of the highest number of children ever.
Between 60 and 65 children enjoyed catching many bluegills and sunfish, several nice-size trout and a few other species (including turtles).
We went through all 250 night crawlers that were cut in 3 pieces (750 pieces of worms), and then 2 dozen each of leeches and minnows.
Funding for the fishing bait, refreshments, fruit and snacks was provided via a Thrivent Financial Action Team grant.
The event lasted for three hours from 4 until 7 PM and lunch is provided courtesy of Festival Foods and the Green Bay Exchange Club.
About 120 total plates of food were served with about 175 hot dogs, baked beans, chips, fruit and snacks.
The children are from various Brown County Social Service programs lead by Glen Tilot.
Trout Unlimited members were kept busy showing the kids how to bait hooks, cast a fishing pole, catch fish, and then how to unhook and release fish. Busiest of all, were members like Paul Mongin who helped fix the many tangled fishing lines, reels and poles.
Many thanks to the Trout Unlimited members who helped, including Pat Hill, Bruce Duechert, Dave Ostanek, Lee Meyers, Rob Zeratsky, Doug Seidl, Paul Kruse, Paul Mongin and Matt Norem and Bob Omba.
You should plan to help us next year, as helping a child catch a fish is a very rewarding experience. Thanks especially to Pete Dannen and Brown County Izaak Walton League for allowing us to use their excellent facility and ponds.
TU members are reminded that the Izaaks Fund raiser event is Tuesday evening, July 21, at the same location.   For $15 all you can eat fish boil and drinks, and there are numerous raffles to take a chance on, and donate to, a good cause.
Please check out the Gallery of Photos.
Please find below the thank you letter from Glen Tilot PALs Program Coordinator.