May 8th – 2021 Work Project #1
Article written on 2021-04-04 by: Adrian Meseberg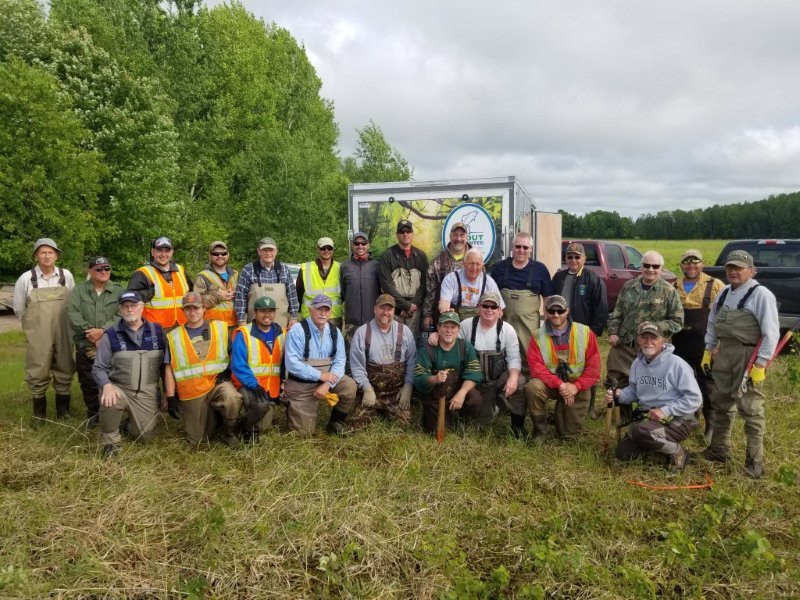 GBTU's 2021 work project season is set to begin with a day on the Prairie River.
The Prairie runs through Lincoln and Langlade Counties. It has been featured in the book "Wisconsin's Blue-Ribbon Trout Streams" (Halla, 2001). Author Chris Halla says…"The Prairie River offers anglers 42 miles of Class I and II trout water. The Prairie's multiple personalities make it one of those rivers that offers something to suit pretty much anyone's and everyone's tastes."
The following message regarding our upcoming Saturday, May 8th work project comes from GBTU work project chair Paul Kruse…
Hi All,
Great news for a change on the work project front!
We will be having our first work project of 2021 on May 8th on the Prairie River. It will be a tree planting project of over 1000 trees on a major section of improved trout habitat water the DNR worked on in 2020. We will meet at the intersection of Dagis Dr and Deer Shiners Rd at 8:30am. We will be working in conjunction with Wisconsin River Valley Trout Unlimited.
Please read completely through and print the attachments since this type of work project is new to our group.
As always, please notify me as soon as you realize you will be in attendance, so we can plan for lunch. We will be grilling out for lunch and plan on working until all the trees are in the ground. We are expecting that to be 12:00-12:30pm depending upon the work force. Many hands make light work!
This is a great opportunity to scout new trout fishing opportunities and make a new like minded friend in the fishing community, since members of The Wisconsin River Valley TU will be in attendance.
I will be sending out the liability waivers at a later date.
If you have any questions, comments, or if I can be of further assistance in any way please feel free to contact me.
Thank You,
Paul Kruse
GBTU Habitat Coordinator
500 Saint Jude St
Green Bay,WI 54303
(920) 639-2361
Below are links to the attachments Paul is referring to…
References:
Halla, Chris. (2001). Wisconsin Blue-Ribbon Trout Streams. Portland, OR: Frank Amato Publications, Inc.