2013-Jul-20 N. Branch Oconto
Article written on 2013-07-20 by: Randy Rake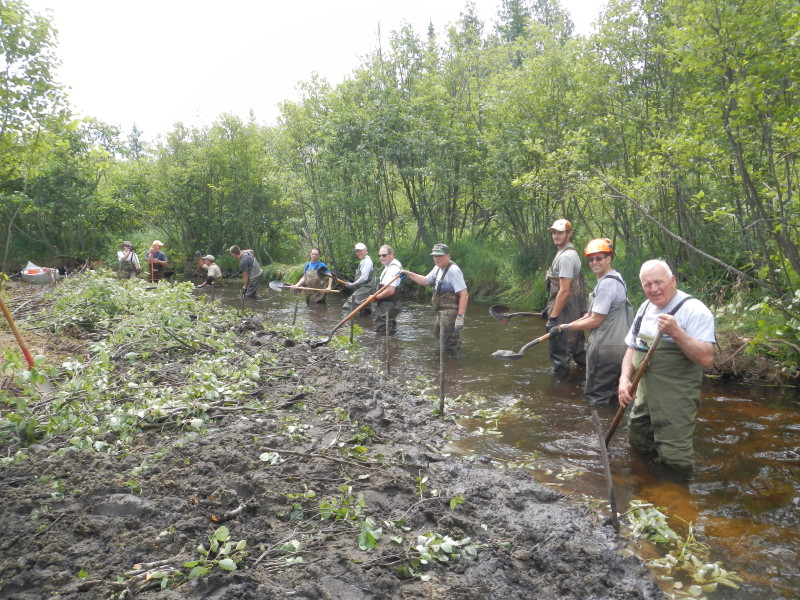 View the photo diary at the Gallery
July 20th, North Branch Oconto River Work Project
The weather cooperated giving us relief from the 90 degree summer heat that smothered the area for 3 days prior to the work date.   Trout Unlimited members who ventured to the upper North Branch Oconto River in Forest County welcomed lower humidity and 70 degree temperatures.
This work was coordinated and lead by U.S. Forest Service Biologist, Tom Moris and two of his summer employees, Joe Zant and Scott Will.
We added to the work we had done the prior two years, working downstream 500 feet from our 2012 improvements.   During this project day, 15 workers installed 225 feet of brush bundles and totally covered them with sediment from the stream bottom by hand shovel.  This work makes for strong backs and the appreciation of a good shovel full of sediment that doesn't slide off your shovel.
Trout Unlimited volunteers who gave a day of their time to make the coldwater resource better included; Green Bay Chapter: Paul Kruse, Pat Hill, Randy Rake, Wally Heil, Dennis Dugre, Lee Meyers, Harold Beck, Bill Holton and Rob Parrott Oconto Chapter: Dale Halla, Jim Trochta and Harold Zellner.
We also undertook cutting alder brush, tying over 100 bundles and placing them in the designated areas along the stream bed.  Brush bundles capture sediment and repair the river by allowing native grasses to grow and secure the banks from further erosion.
This type of stream restoration work results in a narrower and deeper river channel, increasing water current flows and maintaining better water temperatures for the resident and migrating trout that seek refuge in these head water streams during the summer.
The crew added six woody structures, which were anchored in strategic locations to provide overhead cover and deeper pool habitat for the trout.
Tom Moris of the US Forest Service, who has been in charge of this area for some time, adds the following information about the habitat work we accomplished the past two years on the North Branch Oconto River.
Water depths have increased by 50-100% with more livable and usable hiding cover for the resident fish community and less silt on the stream bottom.   Impacts to the users include a 95 percent fishable stream compared to 15 percent before we removed the tag alder and people have begun fishing this section again after many years. The Forest Service has received several positive reports from anglers who enjoy and appreciate the habitat restoration.   Some of those anglers have not fished this section since the 1950's and 60's.
Also, culverts were replaced at two stream crossings on North Branch Lane for the North Branch Oconto River and Round Creek crossings. Much larger culverts were properly set into the stream bottom to allow for fish migration through them and more consistent water flows. This has allowed the river to flush more sediment and scour deeper pool habitat, which reduces the amount of silt in the stream channel and increases usable space for the resident trout community.
We hope to see more volunteers at our next and final project of the summer as we work on Ninemile Creek, located north of Langlade (an important tributary of the Wolf River).   This will be a new stream and work site as we work with member from the Wolf River Chapter and Antigo DNR habitat crew.
Submitted by Lee Meyers