2013-Jun-15 1st S. Branch Oconto
Article written on 2013-06-15 by: Randy Rake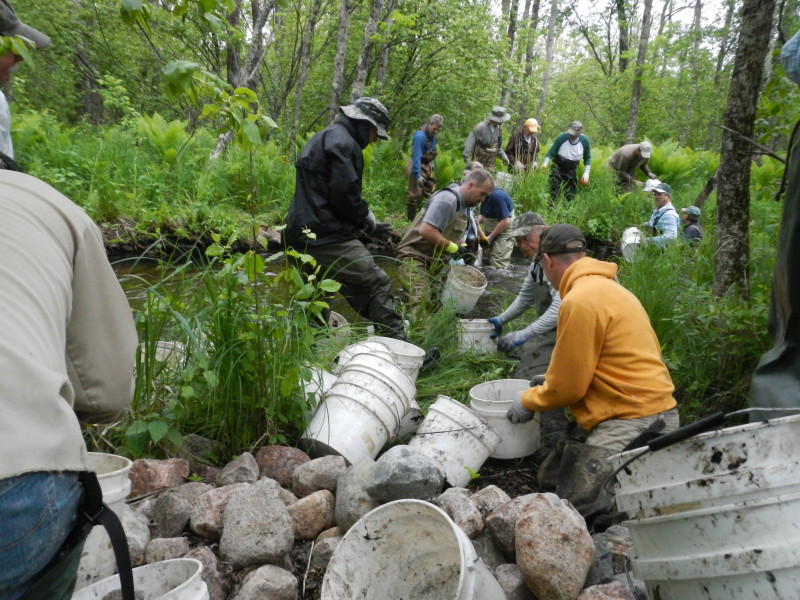 Please check out the Gallery of Photos for more pictures of the work day.
June 15th 2013 – Work Project to Refurbish 30-year old Bank Covers on the First South Branch Oconto River, Hwy W
Our second TU work project of the summer was another successful event as we completed the rock placement started in May. The rock repaired old trout habitat bank cover structures, which our Chapter helped install in the 1980's.
Several of our members that worked on the original project over 30 years ago were present this Saturday: Jim VanderBranden, Bruce Duechert, Mitch Bent and and Cliff Sebero from the DNR.
The Chapter and the resource are thankful and privileged to have such steadfast support of dedicated and hard working community members.  Jim, Bruce and Mitch have served the Chapter in many capacities throughout the years with countless volunteer hours. Thank You!
The day's work project was lead by Trout Habitat Expert- Cliff Sebero and Biologist, Chip Long from the Peshtigo DNR Office.
The work crew refurbished five bank covers moving thousands of pounds of rock to fill erosion holes caused by high water and secured the structures for another 30 years.   We had a great turnout of members that allowed us to finish early and beat the rain (almost).
Twenty (20) TU members made this work happen. From the Green Bay Chapter: Mike Renish, Harold Becks, Jeff House, Matt Norem, Bruce Duechert, Mitch Bent, Jim VanderBranden, Jeff Gross, Dennis Dugre, Jeff Stone, Adrian Meseberg and son, Payton, Doug Seidel and Lee Meyers. From the Oconto Chapter: Pete VanderWegen Tom Klatt, Ron Klatt, Don Wagner, Dave Kalbus and Byron Dugre.
We thank everyone who helped make this project happen and hope to see more TU members at our next project on Saturday, July 20, when we will work on the North Branch Oconto located north of Wabeno.
Submitted by Work Projects Chair: Lee Meyers