2013-May-18 1st S. Branch Oconto
Article written on 2013-05-18 by: Randy Rake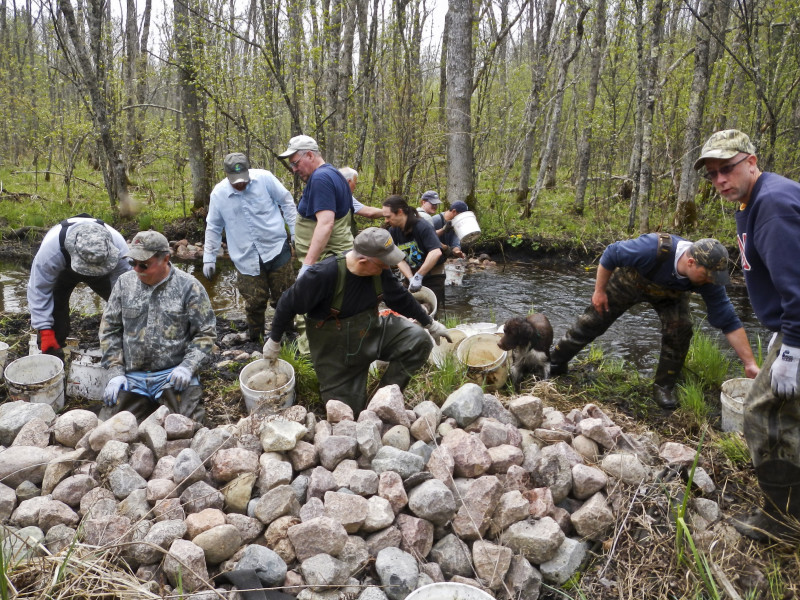 We successfully rocked till we dropped on our first TU work project of the summer attaining our goal of repairing old trout habitat structures. These trout habitat bank covers were originally installed over 30 years ago, and our Chapter helped work on the original project back in the 1980s. Does this make it classic rock? Bruce Duechert of our Chapter and Cliff Sebero from WIDNR were there at that time.
The many tons of rock moved this day were brought in by machine and strategically dropped by the DNR during the winter when the surrounding ground was frozen.  Although we had put off work for over a year due the words "haul rock", this day ended up not as difficult as first thought with a high spirited work crew that got down to business.
Once we set up the "Human Conveyor Line" to move the rock from pile to bucket to placement, things ran smooth and efficient.
One large bank cover required totally new rock and working together in a brigade line, we were able to move about 15,000 pounds in an hour to cover 200 feet of bank.
All totaled, we moved 30,000 pounds of rock over a 3-hour period this Saturday morning and refurbished four bank covers.
Twelve TU members made this happen and included: Mike Renish, Pat Hill, Harold Becks, Jeff House, Matt Norem, Bruce and John Duechert, Randy Rake, Robert Parrott and Lee Meyers from Green Bay, with Bob Obma and Pete VanderWegen from the Oconto Chapter.   The work project was lead by Trout Habitat Expert- Cliff Sebero and Biologist, Chip Long from the Peshtigo DNR Office.
We thank everyone who helped make this project happen and hope to see more TU members at our next project on Saturday, June 15, when we will return to the same site to finish the job.
Submitted by Lee Meyers
get the complete picture in our GALLERY