2020 NE Regional Meeting Summary
Article written on 2020-12-27 by: Adrian Meseberg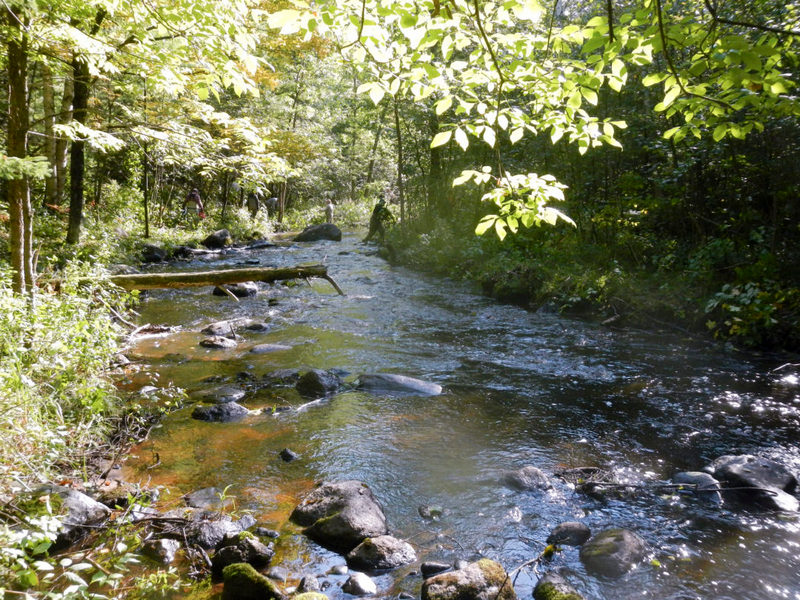 The Wisconsin Trout Unlimited Northeast Regional meeting is a very unique event. There is nothing like it in the state and probably very few, if any, like it nationally.
The TU chapters that make up the region (7-8 of them) get together to listen to funding requests for area trout stream habitat efforts by state, national and other non-profit agencies/departments.
What makes this setup so important is this…the TU chapters north of us have the trout stream resources but do not have a lot of dollars. In the Green Bay Chapter we do not have the coldwater resources (Brown and Door Counties); however we raise more revenue than our neighbors. Many of our members and their family/friends fish these waters. We also partner with these agencies for most of our work project days in the summer.
The fact that we get together as "One TU" to do what's best for the resource is very special indeed.
This year 2 groups; the Wisconsin DNR in Antigo and Lakewood (with the Peshtigo DNR) were seeking $38,000. In the past the Chequamegon-Nicolet National Forest (CNNF) and Trout Unlimited Great Lakes Stream Restoration (TU-GLSR) have also sought funds (although they were not looking for money this year).
One of the biggest concerns for TU Regional Chapters this year had to do with funding commitments for last year. Most of us were/are unable to hold our biggest fundraisers…annual banquets…and have a degree of future financial uncertainty. Some chapters had already sent money the the departments/agencies they pledged in 2019…others had not.
The WI DNR's Eastern District Fisheries Supervisor, Dave Boyarski (Sturgeon Bay), was present, at the virtual meeting, and clear that funding committed last year did NOT have to be sent. It looks as though they were able to fund the efforts from this past year on their own (likely due to the fact they did less work and had increases in revenue elsewhere i.e. Trout Stamp Money).  Several chapters that already sent checks rolled them over into this year's pledge.  GBTU does NOT have to send money committed last year. This saves us $12,500 from our 2019 commitments and allows us to more comfortably pledge to this year's work.
Due to the fact that chapter's were able to retain last years commitments, roll over funds sent last year, apply for matching WI State TU Friends Grants and "gift" dollars to neighboring chapters to be put towards these matching Friends grants…we can be very proud all funding was committed !!
Below is a breakdown of the funding requests by agency, what they need the funding for, each chapter's commitment and total amount committed by each chapter…
WDNR – Lakewood with Peshtigo– Seeking $6000-$21,000 ($1000 for chainsaw, $5000 for parking lot signage and work and $5000-$15,000 for work crew)
GBTU – $5000 (Parking lot signage and work)
Marinette TU – $2000 plus $2000 WITU Friends Grant ($4000)
Oconto River TU – $2000 plus $2000 WITU Friends Grant ($4000)
Wild Rivers TU – $2000 plus $2000 WITU Friends Grant ($4000)
GBTU and Marinette TU to "gift" Antigo TU $1000 each ($2000)…Antigo TU would put that money towards a matching $2000 WITU Friends Grant ($4000)
WDNR – Antigo – Seeking $17,000 ($2000 for dredging, $5000 for work crew and $10,000 for a UTV)
GBTU – $4000 plus $2000 WITU Friends Grant transfer from 2020 ($6000)

Antigo TU – $6000
Wisconsin River Valley TU – $3000 plus $2000 WITU Friends Grant ($5000)
TU-Great Lakes and USFS did not seek funding this year
Total donation figures are as follows…
GBTU – $10,000 (includes $1000 "gifted" to Antigo TU to go towards matching WI TU Friends Grant)
Antigo TU – $6000
Marinette TU – $3000 (includes $1000 "gifted" to Antigo TU to go towards matching WI TU Friends Grant)
Wisconsin River Valley TU – $3000
Wild Rivers TU – $2000
Oconto River TU – $2000
Northwoods TU – $0
Wolf River TU – $0
WI TU Friends Grants – $2000 each for GBTU, Antigo, Marinette, Oconto, Wild Rivers and Wisconsin River Valley TU Chapters ($12,000)
*A huge thank you to the agencies/departments and the work they do. Another big thanks to the TU chapters who help make this possible and TU NE Regional Chair, Dale Lange, for running a great meeting. And a final thanks to GBTU members Kim McCarthy and Doug Seidl for joining myself (Adrian Meseberg) at the meeting !*