Annual / Awards Meeting Recap
Article written on 2016-04-14 by: Adrian Meseberg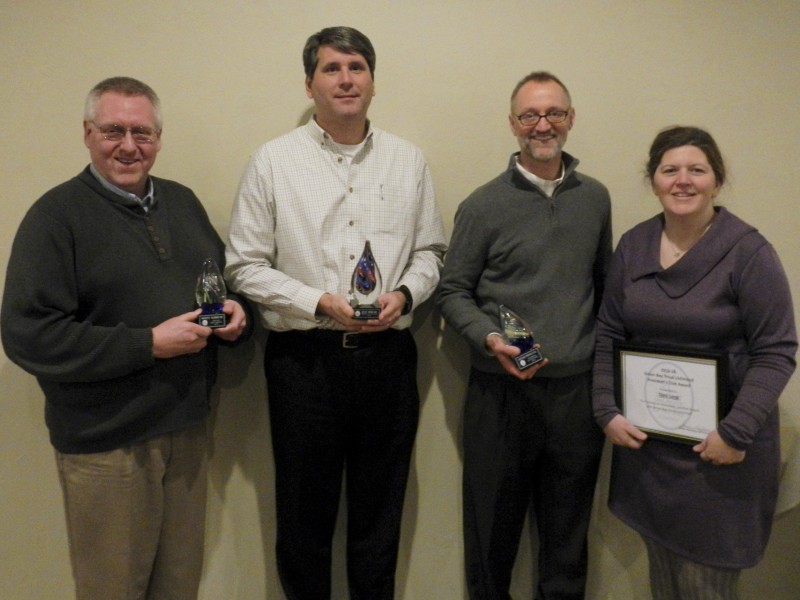 On Thursday, April 7th Green Bay Trout Unlimited held our Annual Meeting (with Awards).  We summarized an eventful season and recognized our 2015-16 award winners.
The evening began with the presentation of chapter awards.  Nominees in five categories were solicited from the chapters' Board of Directors last November…then chosen by chapter president Adrian Meseberg.  The award categories, definitions and winners are below…
The Green Bay Trout Unlimited President's Club Award has often been given to a "newer" member who has demonstrated a high level of activity within the chapter. In the past this has been associated mostly with work projects, but can certainly reach beyond that.  President's Club Award Goes To – Dani Long
The Green Bay Trout Unlimited Business of the Year Award is given to a business that has demonstrated steadfast support for years.  Business of the Year Award Goes To – Independent Printing
The Green Bay Trout Unlimited Unsung Hero Award is given to an individual who has been busy taking care of important chapter business behind the scenes.  Unsung Hero Award Goes To – Matt Norem
The Green Bay Trout Unlimited Distinguished Service Award is given to a chapter member who has given freely of time, money and talent for many years. This often shows up in various facets of our activities including Fundraising, Work Projects, Chapter Management and more.  Distinguished Service – Randy Rake

The Green Bay Trout Unlimited Member of the Year Award is given an individual with outstanding efforts on behalf of our chapter.  Member of the Year Goes To – Jeff House
Following the awards presentation the chapter enjoyed a dinner including pizzas, chicken wings, nachos, plenty of dips and drinks.
While filling our hunger cravings the chapter was presented with a recap of our 2015-16 seasonal efforts.  There is no doubt we enjoyed a very successful year including…6 work projects, 19 educational/community outreach activities, direct funding of 3 fellow conservation groups and 2 trout stream habitat improvement agencies, 4 presenters, the start of a veteran's service program, creation of a new website, creation of a fishing trip committee, meetings and letters with/to several elected officials, expansion of our revenue streams and more.  We also shared some of our ideas moving into next season.
A huge "congratulations" goes out to this year's award winners.  A giant "thank you" goes to all of you who helped make the 2015-16 season a huge success.
We look forward to doing it again next year !