April 27 – Community Outreach Summary
Article written on 2019-04-29 by: Adrian Meseberg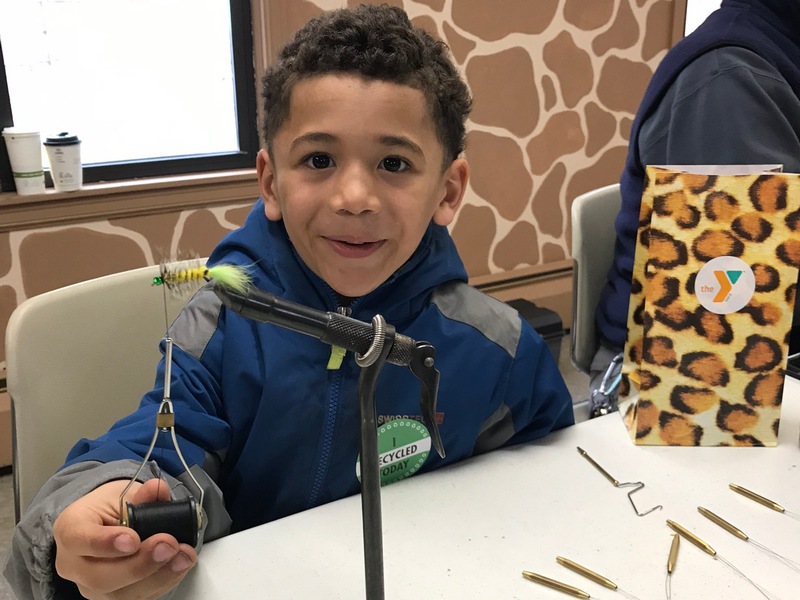 On Saturday, April 27th the NEW Zoo held their annual Earth week Party for the Planet celebration. For the first time they asked outside organizations if they would like to be the event. GBTU decided it would be a good idea to see what it was all about.
The day was a bit rainy and cold. For these reasons it was decided we should be inside. We had three six foot tables set up with several vises and tying materials. We were ready to rock.
We were able to send around 20 kiddos home with their first flies in the 9a-2p event. It would have been nice to see a few more faces. Turnout seemed much lower than the 3000 folks the zoo was expecting. This was almost certainly due to the weather and the fact that President Trump was in Green Bay on the same day.
Six chapter members volunteered. They were Kim McCarthy, Gary Gillis, Jim Vanden Branden, Dave Ostanek, Doug Seidl and Adrian Meseberg. A huge thanks goes them all for giving their time to help put smiles on these kids faces. A big thanks also goes to the staff at the NEW Zoo. They kept checking in to see how we were doing. They even brought us all cake and coffee…how nice !!