Conservation Banquet Feb 18th
Article written on 2016-01-15 by: Michael Renish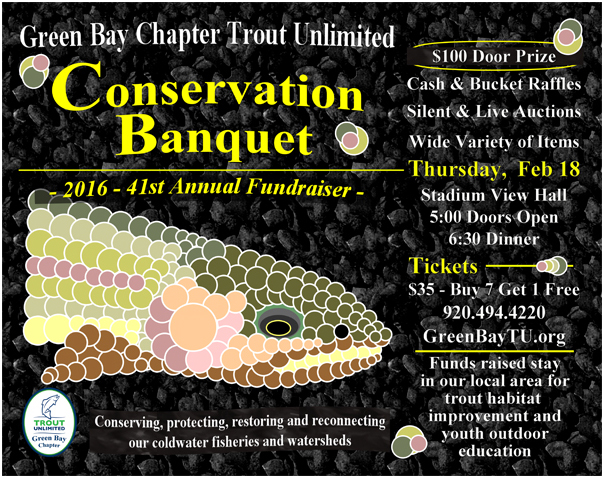 On February 18th, at Stadium View Banquet Hall, the Green Bay Chapter of Trout Unlimited will holds its 41st annual banquet.
We have all kinds of good stuff as usual and it is considered one of the best banquets in Green Bay.
We have auctions (both silent and live) that include shotguns, pistols, kayak, Green Bay Packer memorabilia, fishing equipment, flies, carvings, mirrors, prints, chainsaw, cooler of meat, bushel of booze, pyramid of beer, golf rounds, fishing trips, 50/50 raffles, door prizes and more.
The food is always fantastic and the fellowship is better.
There is a cash bar as well.
As you know, pretty much all of our conservation budget is raised at this event, so it is very important to get off the sidelines and support us.
We are one of the leading conservation groups in the region that not only improve habitat water in close relative proximity to Green Bay but are also fighting to protect our cold water from a legislator stand point.
We have made many impacts with the law makers in Madison and are committed to keeping up the pressure to ensure our conservation values are upheld.
We'll look forward to seeing you there and thank you in advance.