Feb 2nd, 2017 Program
Article written on 2017-01-25 by: Adrian Meseberg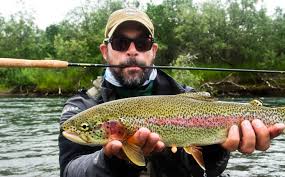 Program #4 – Tenkara Trout Fishing Summary:
Tenkara trout fishing, common in Japan, is gaining popularity here in North America.  There are many different ways to trout fish including using live bait, spinners, flies, open reel, closed reel, fly rod and more.  Tenkara is yet another style of trout fishing is quickly gaining popularity in North America.
Presentation description:
Matt Sment, of Badger Tenkara, will share the Tenkara fishings style, equipment, origins and much more.
Tenkara is a relatively simple style of fly fishing.  It is steadily gaining popularity with American anglers because if its lower cost to enter the market.  Unlike more familiar fly fishing equipment, Tenkara rods are longer and do not utilize reels to manage line.  Instead, the line is attached directly to the tip of the rod, which allows for precise casting and drifts that are virtually drag free.
While originally developed in Japan by commercial fisherman for trout fishing on high gradient mountain streams, it is easily adapted to a wide variety of species and environments. Tenkara is exceptionally well suited to fishing Driftless streams, and is also a great tool for catching bass and panfish.
Our presentation will examine the origins of the style and discuss the unique characteristics of Tenkara equipment. We will detail rods, lines, and flies that are commonly used by Tenkara anglers. Additionally, we will discuss how and why Tenkara is an extremely personalized style, and how that translates into a great fishing experience!
Bio on Matt:
Matt Sment served as a US Army Paratrooper, and is a graduate of the North Carolina Outward Bound Outdoor Leadership program. As co-owner of Badger Tenkara, he has been guiding and instructing Tenkara anglers for nearly 3 years.
Matt will also have rods and accessories available for anyone wanting to purchase them, or simply check them out.  You can also visit Badger Tenkara's website at www.badgertenkara.com.
Banquet Note:
Please consider bringing a bottle of booze to the meeting for our Bushel O Booze raffle at February's 42nd Annual Conservation Banquet.  This is a big money raiser for our organization.  This time of year we can find great deals on liquor.  Your donation of a $15+ bottle could literally help raise upward of $1000.  That is an enormous bang for your conservation buck and our basket is looking a little thin.
Details of the meeting:
Date – Thursday, February 2nd
Time – 6:30p
Location – Townline Bar and Grill; 2544 Lineville Rd, Suamico WI 54313
Details – Badger Tenkara's Matt Sment, will be speaking about Tenkara fishing.  a traditional type of fishing practiced in Japan that should not be confused with fly fishing. Primarily used for mountain stream trout fishing, tenkara is quickly gaining popularity in North America.  Matt will have rod and accessories available for purchase.
Extras – Free Food and Drinks (non-alcohol)
Thank you for all you do for Wisconsin's coldwater resources !