October 3, 2019 Program
Article written on 2019-09-23 by: Adrian Meseberg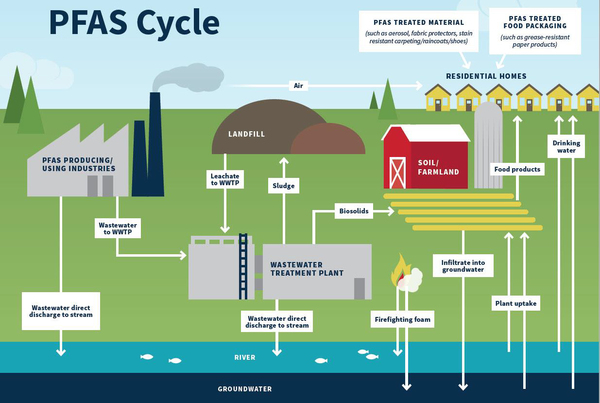 According to the Environemental Protection Agency PFAS are…
Per- and polyfluoroalkyl substances (PFAS) are a group of man-made chemicals that includes PFOA, PFOS, GenX, and many other chemicals. PFAS have been manufactured and used in a variety of industries around the globe, including in the United States since the 1940s. PFOA and PFOS have been the most extensively produced and studied of these chemicals. Both chemicals are very persistent in the environment and in the human body – meaning they don't break down and they can accumulate over time. There is evidence that exposure to PFAS can lead to adverse human health effects. Basic information on PFAS can be found on the EPA's website by CLICKING HERE.
As it says above, they bio-accumulate much like PCBs in the Fox River.
An August 28th article on Wisconsin Public Radio's website states that Wisconsin Governor Tony Evers "Directs DNR To Create PFAS Standards For Drinking, Surface Water". Environmental groups were critical of the Scott Walker administration for not acting sooner (read the WPR article HERE).
According to the Wisconsin State Journal…Wisconsin may adopt one of nation's toughest PFAS standards (Verburg, Steven / June 22, 2019).
Our guest speaker, UWGB Professor Mike Holly, is well educated on the subject of PFAS. He is bringing a presentation titled – PFAS ENVIRONMENTAL SOURCES, FATE AND TREATMENT. This is a great opportunity to learn more about this budding threat to our coldwater fisheries. Below is a little bio on Professor Holly…
Michael Holly, PhD PE is an Assistant Professor of Environmental Engineering for the Richard J. Resch School of Engineering at UW-Green Bay. He has an B.S. in Biosystems Engineering from Michigan State University and an M.S. and Ph.D. in Biological Systems Engineering from UW-Madison. Mike's research interests include agricultural waste management, stormwater management, engineered wetlands, greenhouse gas and ammonia mitigation from agriculture, aquaponics modeling, and treatment of wastewater containing per- and polyfluoroalkyl substances (PFAS).
Details of the October meeting are below…
2019-20 PROGRAM MEETING #1
Date – Thursday, October 3rd
Time – 5:30p – BOD meeting / 7p – Guest Speaker
Location – Townline Bar and Grill; 2544 Lineville Rd, Suamico WI 54313
Details – Professor Mike Holly, Assistant Professor of Environmental Engineering at UW-Green Bay Title – PFAS ENVIRONMENTAL SOURCES, FATE AND TREATMENT
Extras – Free Food, Soda and Door Prizes !
We look forward to seeing you there !
Thank you for all you do for Wisconsin's coldwater resources !!