GBTU 45th Annual Conservation Banquet
Article written on 2020-02-07 by: Adrian Meseberg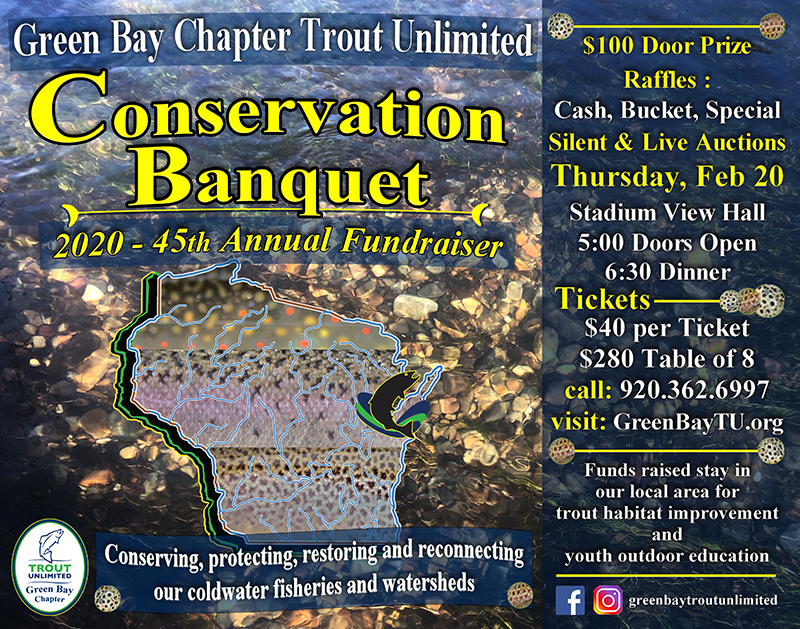 The GBTU Annual Conservation Banquet is where we raise almost all of our revenue. It is what allows us to do all the incredible things we do.
Our banquet is a fast-paced event featuring something for everyone. We have cash, bucket and special raffles. We have silent and live auctions. There are chances at door prizes. The food is wonderful, the company is fantastic and the atmosphere is amazing !
Your ticket includes all of this plus dinner.
Details are below…
Event: GBTU 45th Annual Conservation Banquet
Date: Thursday, February 20th 2020
Location: Stadium View Hall (Google Map)
Time: Doors open at 5p / Dinner at 6:30p followed by all kinds of action !
Extras: Tickets are $40 per person, $280 for a table of 8. Sponsorship packages are also available. Call Banquet Committee member Dave Ostanek at 920.362.6997 for more information.
Funds raised stay in our local area for trout habitat improvement, youth education, our Veteran's Service Partnership and much more !!!
Prize List Below…
Live Auction:
1. Trout Fishing Southwest Wisconsin with Duke Welter. Fish with a "Trout Unlimited Legend". Duke has been an active TU member and has fished the Driftless Region trout streams for 30 years. Duke is retiring from guiding and this is his final time giving us this unique experience. Enjoy one day of hosted fishing for one or two anglers during the 2020 season. Join Duke for breakfast at his home in Viroqua, where you'll discuss fishing strategies and choose from dozens of first-class trout waters with wild brown and brook trout. Take a break midday with a streamside lunch. You are encouraged to book this trip before May 1. You'll need a trout license and typical fishing gear.
2. Mourning Dove by Bob Taylor: A meticulously hand-crafted carving made from Tupelo wood. Mourning Doves are often found around backyard bird feeders and their familiar "cooing" is often heard. It is one of the most abundant and widespread of all North American birds. This Dove is nicely displayed on a birch log. Bob has been carving for close to 20 years and he has been a longtime supporter of Trout Unlimited providing carvings for our auctions. This gorgeous carving fits into any décor and will be a conversation piece for years to come.
3. 2 Night of Glamping in the Northwoods: This "Glamping" package includes a two-night stay (weekday or weekend) with breakfasts for 2 people at "Moon Garden", a rustic cabin. Located in the Town of Fence, Florence County, near the Nicolet National Forest with lakes, trout streams, and waterfalls to enjoy. At breakfast, your host can provide ideas of Northwoods activities to do, depending on the season. The cabin has electricity, small kitchen area and separate sleeping area, but you will be using an outdoor privy. Whoever makes the high bid, will really enjoy their Northwoods experience. Bid high and make your reservations.
4. Guided Fishing Trip for Walleye on Green Bay: This certificate is good for a half day (4 hour) guided Walleye trip on the Bay of Green Bay with Fin-Tastic Eyes Guide Service. The trip is for one to three people and includes all fishing equipment, bait and tackle. You will be riding on a fully rigged Ranger boat with state-of-the-art electronics and safety equipment. Captain Mark Kuzniewski is a United States Coast Gurard certified charter captain and guides exclusively on the Bay of Green Bay and Lake Winnebago. All anglers must have a valid fishing license. This certificate expires 10/1/2020.
5. Woodfire Sporting Clay Package: Half-day of shooting clays for 4 people at Woodfire Lodge located near Brillion about 20 miles south of Green Bay. This is "Package B" – (3.5 hours) and includes a 75-bird team flurry (5 stand), 50 targets per person (clay course), sight pairs (1per group per station). Just bring your favorite shotgun as everything else is included; ear plugs, safety glasses, 3 boxes of shotgun shells per person, and ammunition aprons. After shooting, the package includes one hour of domestic beer pitchers and pizza. Valued over $400.
6. Ruffed Grouse by Dick Prehn. Dick Prehn has proven over the years that he is a master of carving and painting both fish and birds. This carving is half a life-sized Ruffed grouse (commonly called Partridge). Dick utilizes basswood to create this carving which is nicely mounted on a birch stump. Carving is a hobby Dick started in the 1970's and now occupies most of his free time. Many of his wildlife carvings are now in private collections throughout the United States. Dick has won many awards for his work so get ready to outbid your friends on this exquisite piece of artwork!
7. Guided Smallmouth Fishing Trip: Al Jamir is an avid fisherman and has fished the Menominee River System the past 13 years. You and a guest will enjoy world-class Smallmouth bass fishing for a full day with a fly rod or spinning rod. You will be drifting down the Menominee River in a Hyde 16-foot low-profile drift boat. Plus, you and your guest will be treated to a great grilled lunch. Be sure to bring your camera to capture photos of the bass you catch, and the bald eagles and other wildlife on the river. This has been very popular float trip the past several years and is sure to provide some great memories. Schedule a mutually acceptable date for the summer of 2020.
8. "Trout Fisherman" by Randy Detjen. An original sculped 3D artwork. Unique, one of a kind and a real conversation piece. Randy Detjen's many years of woodcarving lead him to creating 3D sculptures that are portable. This creation is a framed, hangable Mural ready for your office or living room wall.
9. Pheasant hunt at Woodfire: Woodfire hunting preserve is providing a half day hunt for 10 Pheasants. Does not include dog or guides, bring your own hunting gear and dog(s). Woodfire is a 500-acre state licensed hunting preserve that provides a premier hunting experience. It is located about 20 miles south of Green Bay near Brillion. This is valued over $300
10. Two-night stay in Egg Harbor, Door County (dates include peak summer months): This package includes a two-night stay at Landmark Resort in scenic Egg Harbor, Door County. Your suite can accommodate up to 4, a separate bedroom with queen bed and a sleeper sofa in the main room. Enjoy a long list of amenities including indoor and outdoor swimming pools, whirlpool, steam room, fitness center, and restaurant. The Landmark Resort is "your relaxation expert" located on a ridge overlooking the beautiful Bay of Green Bay. Dates include the high season summer months except Festivals in the Fall. Make you reservation ASAP, as dates fill quickly!
Silent Auction:
Trout wall Hanging value 50.00 – Dawn Alexander-Long
Folding chair value 100.00 – Len/Mary Alsteen
Chiropractic adjustments – Dr. Paula Benbow
Cheryl's Healthy Pet Mart
Cherry and maple cutting board
Packer Football stamped autographs 2019-20 team $100+
GBBG
Bucket Raffle:
DeWalt Atomic Compact 20v. Drill and Impact Driver, 2 batteries, charger (Provided by Green Bay TU)
Nikon Aculon A211 10X42 Binocular (Provided by Green Bay TU)
(4) Rounds of Golf, Hilly Haven, w/cart, 18 holes (Donated by Hilly Haven Golf Course)
Cabela's Fish Eagle 7' Spinning Rod and Reel (Donated by Cabela's)
8'6" Orvis Encounter Fly Rod, 8 wt. 4 pc. w/Orvis Reel and Line (Provided by Tight Lines Fly Fishing Co. and Green Bay TU)
Cabela's Intensity 1600 Laser Rangefinder (Donated by Cabela's)
$100.00 Gift Certificate to Mackinaws Grill and Spirits (Provided by Mackinaws Grill and Spirits and Green Bay TU)
Basket of TYRANT Musky Lures (Donated by Smokey's on the Bay)
GoPro Hero 7 Camera (Provided by Green Bay TU)
Heritage Western .22 cal. Pistol (Donated by Bradley Gun Shop)
$200.00 Gift Certificate to Tight Lines Fly Fishing Co. (Provided by Tight Lines and Green Bay TU)
Norther Lights 4-person Tent (Provided by Green Bay TU)
Savage Model 64 Rifle, .22 cal. Stainless (Provided by Bradley Gun Shop and Green Bay TU)
(4) Round of Golf at Highland Ridge w/cart, 18 holes (Donated by Highland Ridge Golf Course)
Cabela's Predator Musky Rod with Abu Garcia C3 Reel (Donated by Cabela's)
$250.00 Gift Certificate to Cabela's (Donated by Cabela's)
SNAPTAIN SP 650 Drone with Camera (Donated by Green Bay TU)
(2) Tickets to Let Me Be Frank show, (1) night stay at St. Brendan's Inn (Donated by Let Me Be Frank and St. Brendan's Inn)
Frogg Toggs Sierran Breathable Chest Waders, Stocking Foot Large (Provided by Green Bay TU)
Pair of Handmade Fishing Nets (Donated by Jack Behrendt)
Custom Rapid River Trout Knife, Birdseye Maple Handle (Provided by Rapid River Knife Co. and Green Bay TU)
Smoke Hollow Digital Electric Smoker (Donated by A Friend of TU)
(4) Rounds of Golf at Crystal Springs Golf Course, w/cart, 18 holes (Donated by Crystal Springs Golf Course)
Eagle Cuda 128 Fishfinder (Donated by A Friend of TU)
Stevens 12 ga. Shotgun (Provided by Bradley Gun Shop and Green Bay TU)
Bass Pro 7' Travel Spinning Rod, medium action with Case (Donated by Cabela's)
Urban Peak Cooler and Rechargeable LED Flashlight (Donated by Truck Country)
8'6" Orvis Encounter Fly Rod, 5wt., 4 pc. w/Orvis Reel & Line (Provided by Tight Lines Fly Fishing and Green Bay TU)
TuffStore Tool Box and Hand Tools (Donated by Matt Norem)
Cabela's Black Infrared HD 18MP Trail Camera (Donated by Cabela's)
Coleman Roadtrip LXE Grill (Donated by A Friend of TU)
Stihl Leaf Blower (Provided by Ambrosius Sales and Green Bay TU)
Special Raffle:
Hi Point 380
500.00 cash
Ten Point Turbo GT X-Bow Package with case
Complete Fishing Package
Hi Point 9 MM
Chainsaw: Stihl Woodsman 351 18 inch
Kimber 1911 45 AP
Hi Point 40 cal
45 Qt YETI
Hi Point 9 MM
Savage Axis 243 w/ scope
And More…
Bushel of Booze
Pyramid of Beer
Fishing Kayak
50/50 Raffle
Door Prizes
and much, much more !!!
We look forward to seeing you there !
THANK YOU for all you do for the coldwater resources of Northeast Wisconsin !!!