Feb 17 – GBTU 46th Annual Conservation Banquet
Article written on 2022-02-04 by: Adrian Meseberg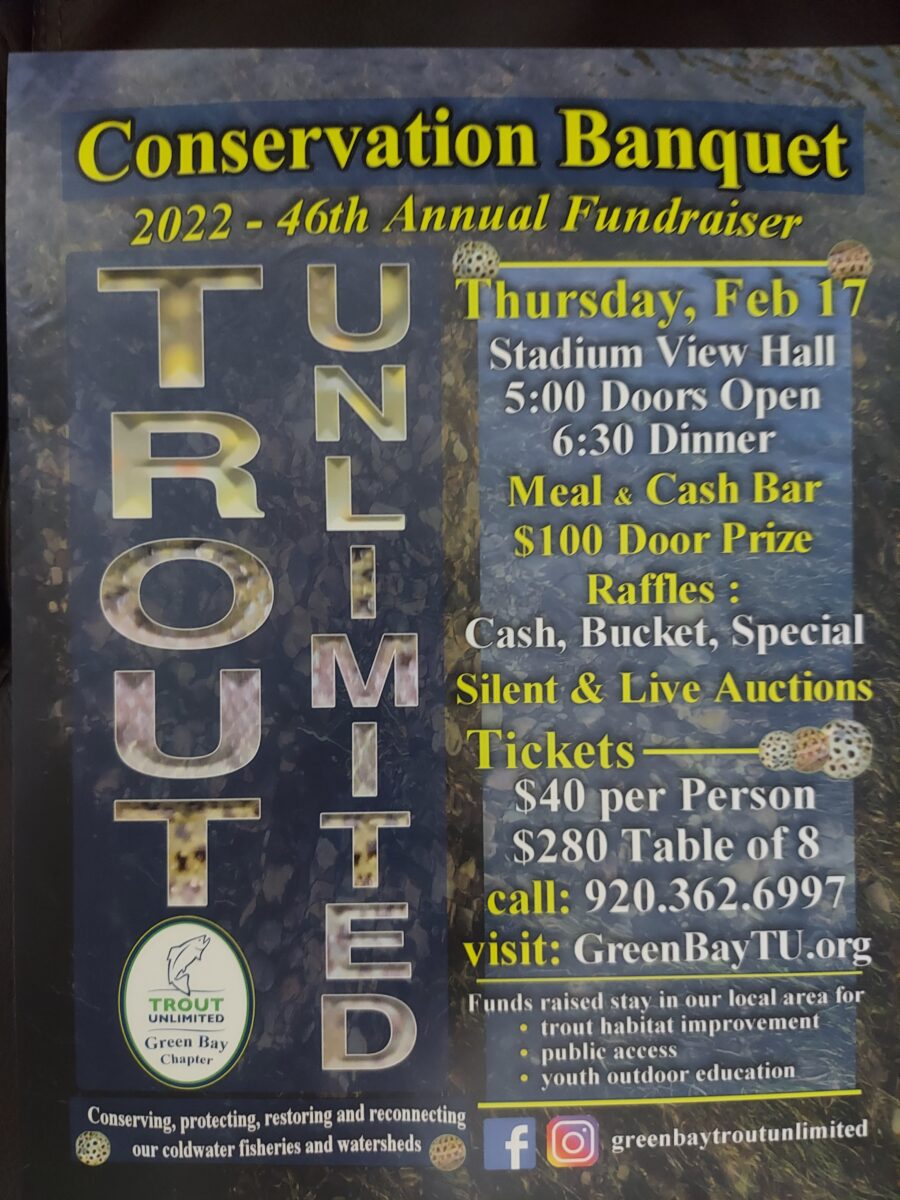 The Green Bay Trout Unlimited (GBTU) Annual Conservation Banquet is where we raise almost all of our revenue. It is what allows us to do all the incredible things we do.
Last year, due to Covid, we were unable to hold our premier fundraiser. After careful consideration, we have decided to bring it back this year !
If this is your first Conservation Banquet, you are in for a treat. If you have been there before, you know what I am talking about. Our banquet is a fast-paced event featuring something for everyone. We have cash, bucket and special raffles. We have silent and live auctions. There are chances at door prizes. The food is wonderful, the company is fantastic and the atmosphere is amazing !
Your ticket includes all of this plus dinner.
Details are below…
Event: GBTU 46th Annual Conservation Banquet
Date: Thursday, February 17th 2022
Location: Stadium View Hall (Google Map)
Time: Doors open at 5p / Dinner at 6:30p followed by all kinds of action !
Extras: Tickets are $40 per person, $280 for a table of 8. Sponsorship packages are also available. Call Banquet Committee member Dave Ostanek at 920.362.6997 for more information (or if your would like to be a sponsor).
Funds raised stay in our local area for trout habitat improvement, youth education, our Veteran's Service Partnership and much more !!!
Prize List Below…
Live Auction:
Trout Fishing in the Central Sands Region of Wisconsin.    One half day of guided trout fishing for one or two people during the 2022 season.    This trip is offered by Fall Line Outfitters & Fly-Fishing Shop of Stevens Point.   Fish the productive brown and brook trout waters in the central part of the state.   Book your trip as soon as possible, pick a date from May to October of 2022.  You'll need a Trout Stamp and your own fishing gear.
Guided Fishing Trip for Walleye on Green Bay:   This Certificate is good for a ½ day (4 hour) guided Walleye trip on the Bay of Green Bay with "Fin-Tastic-Eyes" Guide Service.  The trip is for one to three people and includes all fishing equipment, bait and tackle.  You will be riding on a fully rigged Ranger boat with state-of-the-art electronics and safety equipment.  Captain Mark Kuzniewski is a United States Coast Guard certified charter captain and guides exclusively on the Bay of Green Bay and Lake Winnebago.  All anglers must have a valid Wisconsin Fishing License.  This certificate expires 10/1/2022.
Woodfire Sporting Clay Package.  Half-day of shooting clays for 4 people at Woodfire Lodge located near Brillion about 20 miles south of Green Bay. This is "Package B" (3.5 Hours) and includes a 75-bird team flurry (5 stand), 50 targets per person (clay course), sight pairs (1 per group per station).   Just bring your favorite shotgun, everything else is included; ear plugs, safety glasses, 3 boxes of shotgun shells per person, ammunition aprons.  After shooting, the package includes one hour of domestic beer pitchers and pizza.
Guided Smallmouth Bass Fishing & Float Trip:  Al Jamir is an avid fisherman and has fished the Menominee River the past 15 years.  You and a guest will enjoy world-class Smallmouth bass fishing for a full day with a fly rod or spinning rod.  You will be drifting down the Menominee River in a Hyde 16-foot low-profile drift boat.  Plus, you and your guest will be treated to a great grilled lunch.  Be sure to bring your camera to capture photos of the bass you catch, the bald eagles and other wildlife along the river.  This has been very popular float trip and is sure to provide some great memories.   Schedule a mutually acceptable date during the summer of 2022. 
Pheasant hunt at Woodfire:   Woodfire Hunting Preserve & Lodge is providing a half day hunt for 6 Pheasants.   Bring your own hunting gear and dog(s), as these are not included.  Woodfire is a 500-acre state licensed hunting preserve that provides a premier hunting experience.  It is located about 20 miles south of Green Bay near Brillion.
Silent Auction:
Memorial fly box with 36 of Pete's favorite flies donated by Lee
Round planter donated :
Two donated prints
Cheryls Healthy Pet Mart $ 60/70 value
Handmade Wine Rack
Handmade chair – like one from 2 years ago
Green Bay Botanical Garden
Bel G..Cheese Box
Mirror
Happy Hour Packet
Area Rugs
Rain Chain
Daylilies
More to come !!
Bucket Raffle:
Bonus Raffle: Winchester 12 ga. 3 ½" camo Turkey Shotgun
Cabela's Automatic/Manual Inflatable Life Vest
Tactacam Reveal Cellular Camera, operates on AT&T and Verizon LTE/4G Networks
Plano Stowaway Tackle Box
(2) Clam Power Stick Ice Fishing Combos
Stihl Leaf Blower
Savage stainless .22 LR Rifle
Heritage Western .22 Pistol
Bass Pro XP5 Lithium-Ion Battery Powered Fillet Knife
K-Drill 7.5" Electric Drill Ice Auger
Cabela's Polar Cap Cooler, 9-can
Shakespeare Ultralight Ugly Stick Combo, 4'8"
Bass Pro ProQualifier Baitcast Combo, 7'0"
Pflueger Trion Spinning Combo, 6'0"
Pflueger Trion Spinning Combo, 6'0"
DeWalt 20v. Drill/Driver
Basket of Tyrant Musky Lures
Fitbit Charge 5
Jetboil 1L Personal Cook System
Cabela's Deluxe 12" Vacuum Sealer with 100 bags
Let Me Be Frank
Hilly Haven
Crystal Springs
Jack Berndt – nets
Tight Lines 200 Gift Certificate Nature's Way Donation
Nature's Way Health and Wellness Basket
More to come !!
Special Raffle:
Hi point 380 semi auto – 125/5
500 cash 100/10
Henry Big Boy 44 cal. lever action octagon barrel rifle 150/10
Complete fishing package 150/5
Kimber Micro 9MM semi-auto pistol 125/10
Chain saw 150/5
Kimber 1911 45 cal. ACP semi-auto pistol 150/10
Savage Axis 243 cal. w/ 3×9 scope rifle 100/10
45 qt Yeti 125/5
Hi-point 40 cal. semi-auto pistol 125/5
And More…
Bushel of Booze
Pyramid of Beer
Fishing Kayak
50/50 Raffle
Door Prizes
and much, much more !!!
We look forward to seeing you there !
THANK

YOU
for
all
you
do
for
the
coldwater
resources
of
Northeast
Wisconsin
!!!