GBTU on Action 2 News
Article written on 2022-02-04 by: Adrian Meseberg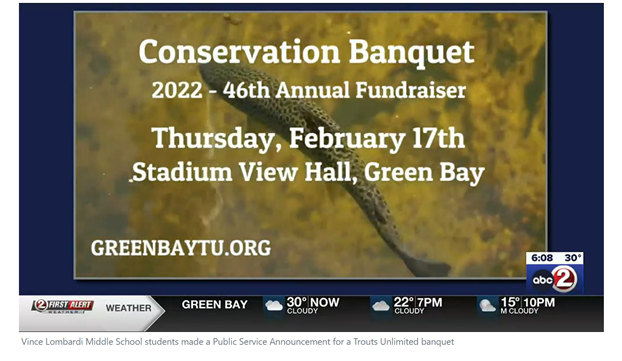 With our 46th Annual Conservation Banquet just around the corner, it is important we get the word out to our supporters. Typically we use our social media platforms, website, emails, publications and more. This year we are also on television !
Carla Zimmerman has been the GBTU Conservation Chair for around 4 years. Outside of our organization, she is an agri-science teacher at Lombardi Middle School in Green Bay. For the 2022 banquet, Carla had an idea that could benefit GBTU and students at Lombardi. She asked a couple girls, who are part of the school's "Tech Ninjas," if they would like to make a Public Service Announcement (PSA) regarding GBTU's upcoming banquet. At the end of the day the students completed an awesome video, a couple of area television stations agreed to air it, Action 2 News featured it and GBTU was provided another way to share our story.
THANK YOU FOR ALL YOU DO FOR THE COLDWATER RESOURCES OF NORTHEAST WISCONSIN !!