Dec 5 – Holiday Party/Awards Dinner Summary
Article written on 2019-11-12 by: Adrian Meseberg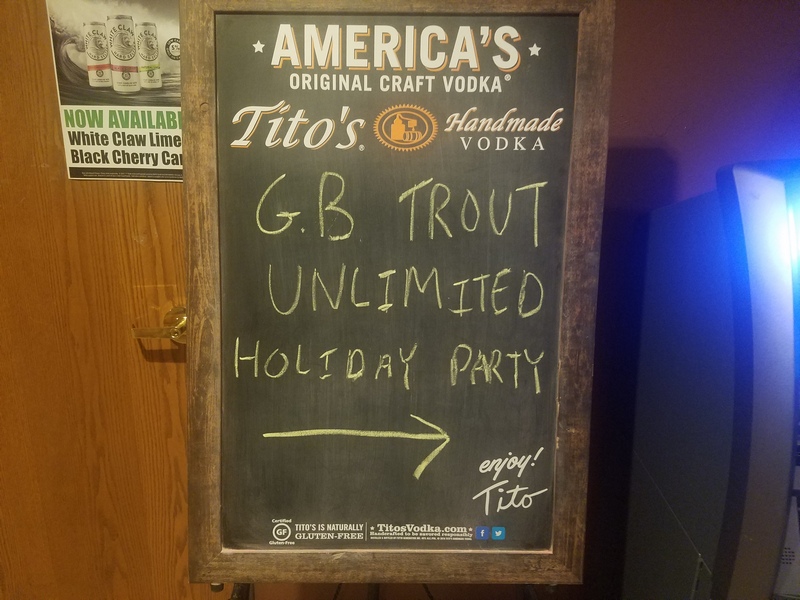 On December 5th close to 60 Green Bay Trout Unlimited members, family and friends came out to Townline Bar and Grill to celebrate at our annual Holiday Party and Awards Dinner !
The evening started at 5:30p when the doors opened to the banquet room at Townline. At 6:30p the food was ready.
Guests were treated to an all-you-can-eat buffet featuring broasted chicken, BBQ ribs, mashed potatoes, gravy, dressing, vegetables, coleslaw, dinner rolls, butter, coffee, milk, and assorted desserts.
At 7:30p our entertainment was ready to go.
The barbershop quartet, Something Old/Something New sang several holiday songs and other popular tunes. They had their own creative take on a variety of Christmas classics. Between songs they kept the crowd laughing with a bunch of funny jokes and stories. Looking through the room you could see lots of laughter coming from our veteran and youth attendees.
Once the entertainment was through, at approximately 8p, it was time to hand out awards to those who really went above and beyond this past year.
The first award was for President's Club. This award comes with a personalized GBTU jacket. The GBTU President's Club Award has been given to a "newer" member who has demonstrated a high level of activity within the chapter over the past year. In has been associated with work project attendance, but we can look beyond that.
This year's winners were Jose Diaz and Gary Gillis !
Jose joined GBTU on January 28th, 2016. He has quickly became a leader. Jose is not only a BOD member but also our Membership Chair. He has been a strong supporter of the chapter offering numerous new ideas. Jose provides the door prizes for our monthly meetings. He also attended our 1st work project of the 2019 season on the 1st S Branch of the Oconto River.
Gary joined GBTU on November 6th, 1998. He is one of the leaders of our Veteran's Service Partnership (VSP). Gary is a regular at our meetings. He attended 2 work projects this year (on the 1st S Branch of the Oconto and the Evergreen River). Gary recently handcrafted a bamboo fly rod to donate as a raffle item at our February Conservation Banquet.
The next award was for Business of the Year. This award goes to a business demonstrating steadfast support over many years.
This year's winner was Tight Lines Fly Fishing Co !
Tight Lines owner Tim Landwehr and store manager Charlie Piette have donated to our Conservation Banquet for many years. They have provided several guest speakers for our meetings. They have allowed us to use their shop as a "homebase" for our Veteran's Service Parntership. Tight Lines has donated unbelievable amounts of money to the improvement and protection of our coldwater resources including their partnership with the Fly Fishing Film Tour.
Next we presented the Distinguished Service Award. This is for undying contributions giving freely of time, money and talent for many years.
This year's winner was Wally Heil !
Wally joined GBTU on May 1st, 1979. He was awarded the President's Club in 1987, Member of the Year in 2001 and the Silver Trout in 2012. Wally is currently on the Board of Directors. He has served on the Conservation Banquet Committee for many years now, running the very popular bucket raffle. He attended our first 2 work projects of 2019 and is at almost every meeting. Wally is the epitome of what this award stands for and has a GBTU career we can all be proud of.
The final award of the evening was for Member of the Year. This is for an individual who has demonstrated "outstanding" efforts over the past year.
This year's winner was Carla Zimmerman !
Carla joined GBTU on December 12th, 2016. She quickly became an active Board of Directors member and then the leader of our Conservation Banquet Committee. Our Annual Conservation Banquet is our premier fundraiser and takes months to organize. Carla has done an exceptional job of managing in this very important role. Our banquet has continued to be extremely successful under her guidance. She has brought several new ideas we have implemented.. Carla is also a member of our newly re-created alternative fundraising committee.
Of course, what's a holiday party without gifts ?
Once the awards were handed out it was time to give out presents. We had a dozen gifts ranging from GBTU merchandise to Seroogy's Chocolates. We even had a special donation from the Zwicky's of a large bottle of booze. We handed out raffle tickets to everyone then drew the winners. The bottle of booze was the final prize and went to Ian Griffiths.
Thanks to everyone who came out and helped make this a wonderful evening !
And, of course, thank you for all you do for the coldwater resources of Northeast Wisconsin !