February 3 – GBTU Guest Speaker #3 (2021-22)
Article written on 2022-01-27 by: Adrian Meseberg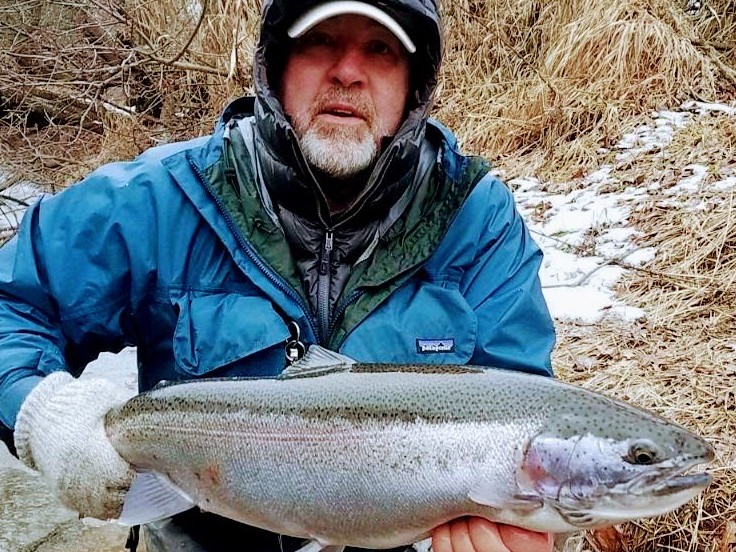 When many of us think about trout fishing, our minds immediately go to the northwoods, driftless area, central sands, etc… Others know there is amazing trout fishing close by.
The tributaries of Lake Michigan (Superior, Huron and more) provide an awesome opportunity to catch steelhead. If you have never caught one before, hold on to your seat ! They are bigger than most all inland trout and can be explosive coming out of the water after hitting your cast.
Our February guest speaker, Jeff Treu, has been fishing for these shiny, silver beasts for more years than some of us have been alive. He will share why he loves tributary fishing, techniques he prefers to use, and why our tributaries deserve the kind of attention our inland and Great Lakes waters receive.
Below is a little bit about Jeff…
"I'm a long time fly tyer and fly fisherman, for over 50 years now. I have for the past 25 years spent as many as 50-100 days a year fly fishing Great Lakes tributary waters. I have a great Passion for these streams and rivers and the fish that live in them. So much so that in the past I've spent time on the Lake Michigan Fishery Forum Committee and wrote articles for local magazine publications. All in an attempt to bring attention to these world class waterways and migratory species that use them. I am also a long time CWTU board member."
This meeting is going to be a hybrid in-person / virtual meeting. Jeff will be joining us virtually. We still be setup at our typical meeting location, Townline, for folks that want to come join that way. Jeff will be streamed through Townline's overhead projector and onto their big screen. Food, drinks and door prizes will be provided. For folks who would prefer to join virtually, we have reserved the WI State TU Zoom account for that evening. To register in advance for this meeting click the link below…
https://us02web.zoom.us/meeting/register/tZYkc-isqT4uHtMWoUbT7S0hYw0tG04bF-8h
After registering, you will receive a confirmation email containing information about joining the meeting. You should not need a Zoom account to join virtually.
Tickets to our upcoming, February 17th, 46th Annual Conservation Banquet will be available. Please consider bringing a bottle of booze for our always popular "Bushel of Booze" raffle at our banquet.
2020-21 PROGRAM MEETING #3 DETAILS BELOW…
Date – Thursday, February 3rd
Time – 5:30p – BOD meeting / 7p – Guest Speaker
Location – Townline Bar and Grill; 2544 Lineville Rd, Suamico WI 54313 or virtually, through zoom using the link above.
Speaker – Jeff Treu – BOD – Central Chapter of Trout Unlimited
Subject – Fly Fishing for Steelhead
Extras – Free Food, Soda and Door Prizes !
Questions – Please contact GBTU President Adrian Meseberg – greenbaytu@gmail.com / (920) 562-6129
While the 5:30p BOD meeting is for participation by the Board, it is open to anyone who would like to attend.
We look forward to seeing you there !
THANK YOU for all you do for our coldwater resources !!