March 7, 2019 Program
Article written on 2019-02-21 by: Adrian Meseberg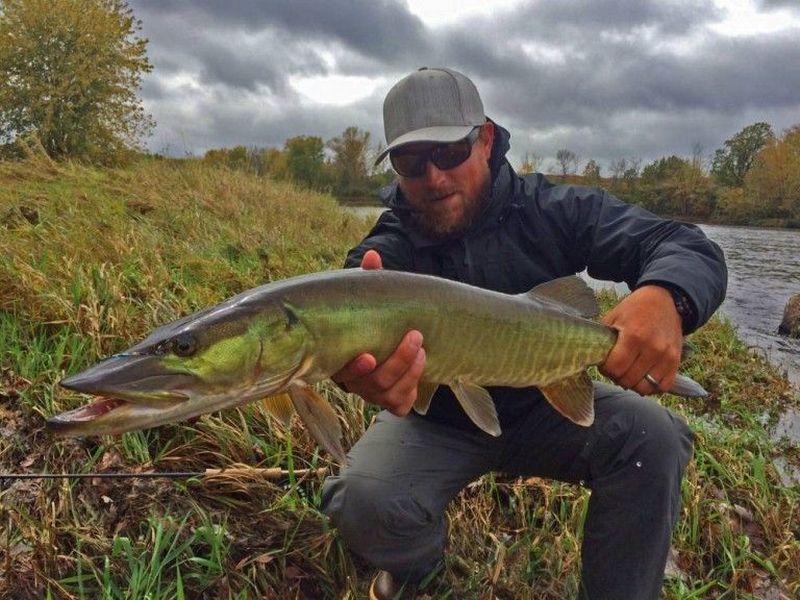 Nate Sipple will talk with us about our state fish in a presentation titled "Muskie on the Fly."
Muskie was designated the Wisconsin state fish in 1955. The Wisconsin Fishing Regulations book lists the state hook and line record as being caught on the Chippewa Flowage in 1949 (69 lbs 11 oz). Many in the state feel the next record could come from the Green Bay System.
The Tight Lines Fly Fishing Company (CLICK HERE for their website) describes Nate as follows…
Nate Sipple comes to us from the waters of Western Wisconsin. Having grown up on the Kinnickinnic River, Nate has had a fly rod in his hand for over 25 years and has guided full time for 11 of those. Equally at home in his drift boat or wading, Nate guides his clients to a variety of species, including smallmouth bass, muskies, steelhead, migratory brown trout and carp. An avid fly tyer, Nate is constantly experimenting with new patterns and materials, relentlessly trying to improvise, invent or improve patterns that will consistently put fish in the net. Nate has been featured in a variety of publications as well as the movie "Off the Grid", and is currently the president of his local Trout Unlimited chapter. New waters, new techniques and the relentless search for the next great eat are what drive Nate to get on the water early and stay out late.
Details of the March meeting are below…
PROGRAM MEETING #5
Date – Thursday, March 7th
Time – 5:30p – BOD meeting / 7p – Guest Speaker
Location – Townline Bar and Grill; 2544 Lineville Rd, Suamico WI 54313
Details – Nate Sipple will be discussing "Muskies on the Fly"
Extras – Free Food, Soda and Door Prizes !
Thank you for all you do for Wisconsin's coldwater resources !!