November 4 – GBTU Guest Speaker #2 (2021-22)
Article written on 2021-10-25 by: Adrian Meseberg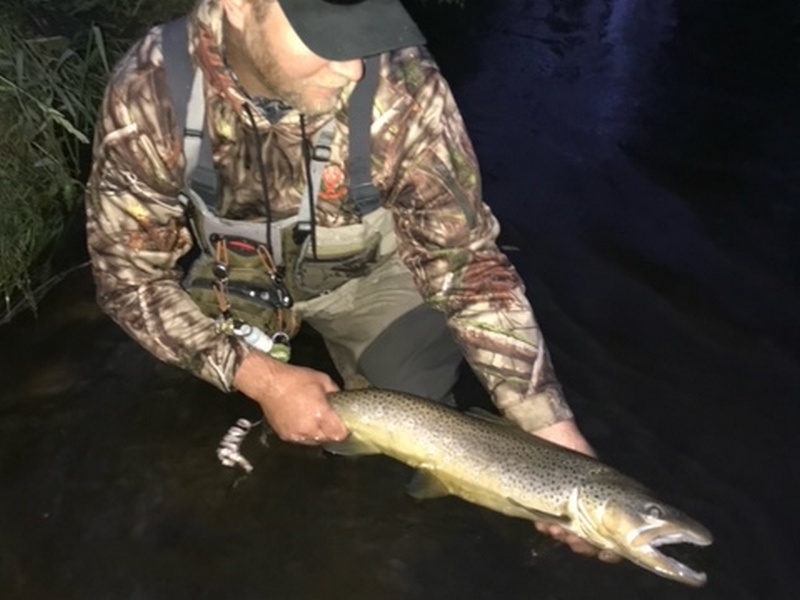 Night fishing for big trout has become increasingly popular over the past several years. There is a good reason for this…it works !
It can be tricky fishing for trout in the dark. For starters, anglers have to deal with the obvious…a lack of light. Beyond this there are several other important questions that our November guest speaker, Myk Hranicka, will gladly answer.
Below is a quote from Myk himself…
"For me, night fishing has become one of my favorite ways to fish for trout. My presentation will include methods I use, casting techniques, fly patterns I use, lights or no lights, best weather conditions and answer any other questions anyone might have."
2020-21 PROGRAM MEETING #2 DETAILS BELOW…
Date – Thursday, November 4th
Time – 5:30p – BOD meeting / 7p – Guest Speaker
Location – Townline Bar and Grill; 2544 Lineville Rd, Suamico WI 54313
Speaker – Myk Hranicka, President – Lakeshore Chapter of Trout Unlimited
Subject – NIght Fishing for Big Trout
Extras – Free Food, Soda and Door Prizes !
Questions – Please contact GBTU President Adrian Meseberg – greenbaytu@gmail.com / (920) 562-6129
While the 5:30p BOD meeting is for participation by the Board, it is open to anyone who would like to attend.
We look forward to seeing you there !
THANK
YOU
for
all
you
do
for
our
coldwater
resources
!!