2020-21 Year-in-Review
Article written on 2021-03-13 by: Adrian Meseberg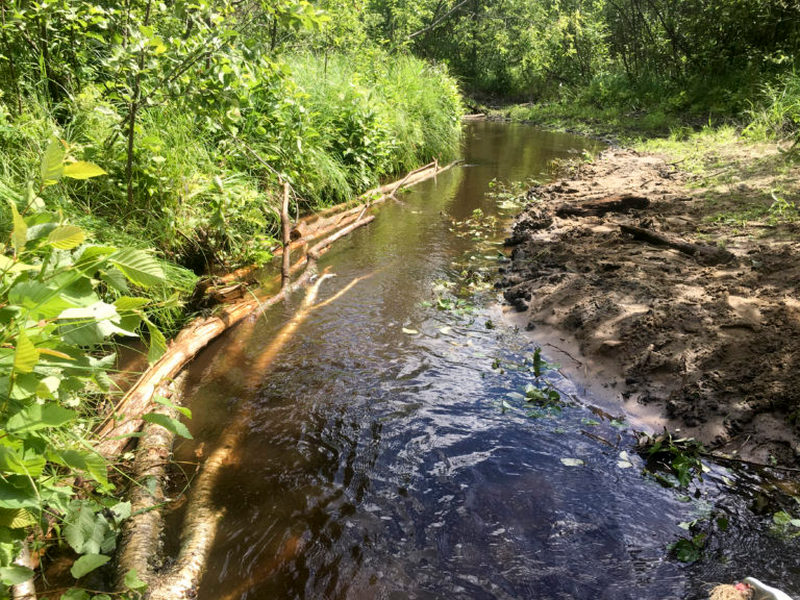 The past year has been unlike any we have ever seen. Our conservation organization, which had developed a pretty dependable routine, was forced to do things differently. Our youth educational events including the very popular Kids' Fishing Day, which we have been part of for 28 years, were put on hold. Our Veteran's Service Program could not meet for obvious safety reasons. State, local and TU National rules/guidelines regarding in-person meeting sizes prevented us from bringing in guest speakers. The Wisconsin DNR's Covid-19 policies did not allow them to host work projects with us. We were forced to cancel what would have been our 46th Annual Conservation Banquet…our premier fundraiser.
Sounds pretty terrible, right ?
Maybe for a more vulnerable organization. Green Bay Trout Unlimited is not that.
Our reputation as a active, driven and passionate conservation organization came through ! Our leaders kept meeting to steer the chapter's direction and maintain the mission. Our work project leadership and crews found ways to safely get our hands dirty. We are partnering with Brown County and the Reforestation Camp to upgrade our amazing Trout Educational Trail. Our newly created Alternative Fundraising Committee found new ways to raise money and our incredible members and supporters came through with much needed financial support.
Over the 2020-21 season Green Bay Trout Unlimited accomplished the following…
Committed Donations:
$5000 – Parking lot signage and work to Lakewood and Peshtigo DNR
$4000 (plus $2000 WITU Friends Grant transfer from 2020 for a total of $6000) – Dredging, work crew and UTV to Antigo DNR
$1000 – Gift to Antigo TU to put towards a matching WITU Friends Grant to be used on trout habitat improvement in Northeast Wisconsin
$1000 (minimum)– Towards purchase of land on Beaver Creek, a class I trout water in Northeast Wisconsin
Taco bag, burrito wader bag and Tight Lines Fly Fishing Company t-shirt – WITU Online Auction
Habitat Work:
July 18th – Fishability brushing on Spencer Creek (Forest County) with the USFS
September 19th – Work on the GBTU Trout Educational Trail on Haller's Creek (Brown County) included removing old signs and displays as well as removal and treatment of common and glossy buckthorn
Education/Outreach:
Maintaining a Conservation Education Trail at the Northeast Wisconsin (NEW) Zoo.
Unfortunately GBTU was unable to do any in-person education activities due to Covid-19
Veteran's Service:
Unfortunately GBTU was unable to do any in-person veteran's service activities due to Covid-19
Fundraising:
Applied for and received 2 grants. Cellcom Green Grant to go towards GBTU Trout Educational Trail and WI DNR R3 Grant to go towards our Veterans Service Program
Launched a successful "Direct-Ask" fundraising campaign
Received donations to place on our GBTU store (hand-crafted bamboo fly rod, guided walleye trip)
Programs / Guest Speakers:
Held 7 (will be 8 after April's meeting) Board of Director and GBTU Leaders virtual meetings
Held several Alternative Fundraising Committee virtual meetings
Held multiple Trout Educational Trail Committee meetings
Diverse and Active Board of Directors and Leadership Chairs:
Our Board of Directors and Leadership Positions are gender, race and age diverse.
Legislative:
We have an active Legislative Chair who keeps us aware of conservation issues and policies. We also sponsored the Wisconsin League of Conservation Voters' Conservation Lobby Day where our members had the opportunity to talk about conservation issues with our legislators.
Despite the Covid-19 pandemic we are continuing our work as an active Conservation Organization with several exciting projects in the works for 2021-22.
Thank You for all you do for the Coldwater Resources of Northeast Wisconsin !!