June 1 – Take-a-Kid-Fishing Day Summary & Pictures
Article written on 2019-05-21 by: Adrian Meseberg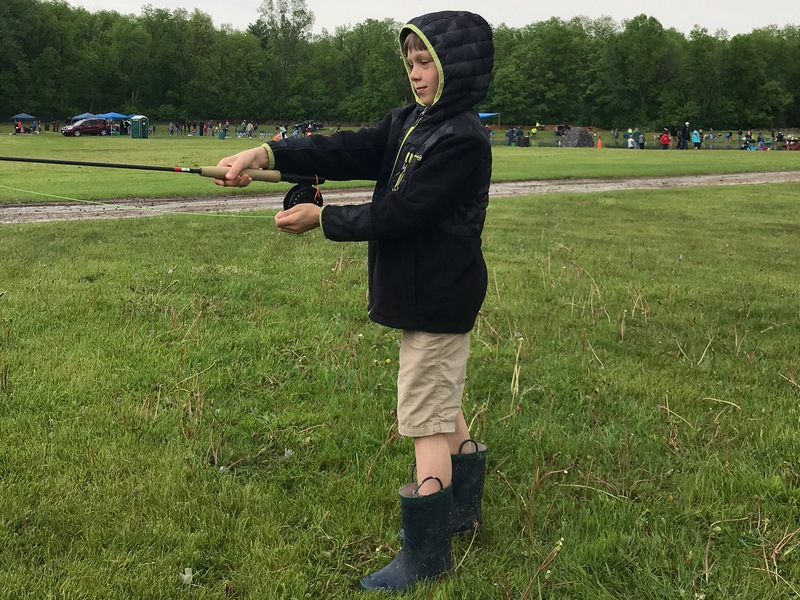 On Saturday, June 1st GBTU joined the Outagamie County Conservation Club to teach fly tying and casting during their Take-a-Kid-Fishing Day.
The day started around 8a with volunteer check in and the set up of booths, tables, chairs, etc… At 9a the real party started.
The conservation club has a large pond on the property, and it is full of fish. Despite it being a rainy day, kids and their parents packed the shoreline. A table and canopy were setup nearby with an announcer and lots of goodies. At 9a the announcer gave the go-ahead to "start fishing !"
With the club giving prizes throughout the event (including those for the first 10 tagged fish, largest fish and more) the first couple hours were pretty quite for the GBTU volunteers. That would soon change.
By around 11a kids started heading towards other opportunities including the GBTU tent. We worked with kids constantly for around the next 3 hours. We even had a small line form waiting for the chance to learn a new skill.
It was a wonderful experience. The volunteers with the Outagamie County Conservation Club treated us very well. We were provided with a free meal and drink. They provided us with tables and chairs. Those who stayed were even included in an after event door prize drawing.
A big thanks to the Outagamie County Conservation Club and the GBTU volunteers; Doug Seidl, Dave Ostanek, Jack Koivisto and Adrian Meseberg.
Check out the pictures below…