S Br Oconto River Fishing Piers Project
Article written on 2021-01-11 by: Adrian Meseberg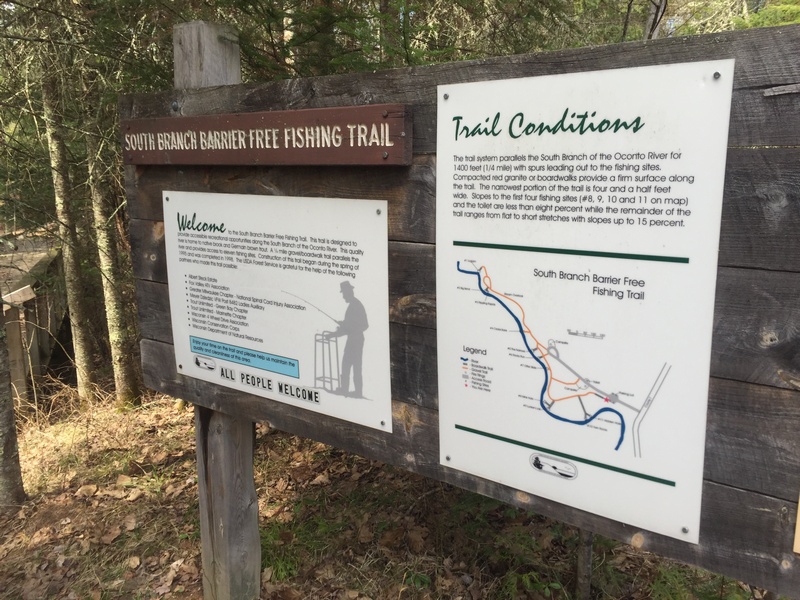 As some of you may know GBTU was a key partner in helping complete what is know as the South Branch of the Oconto River Barrier Free Fishing Trail in 1998. It is a long trial consisting of patted down gravel and a remarkable wood walkway. There are 11 fishing "platforms" that allow open access to casting into the South Branch of the Oconto River (CLICK HERE for a YouTube video of the trail to more fully appreciate the project). Over the past several years we have held work days on this stretch to improve trout fishing. The trail has certainly aged and become in need of upgrading.
Well…the USFS has emailed our Chapter to inform us they are currently working to "replace/decommission existing fishing piers/pathways to make them fully accessible." The project is expected to be completed by March 15th, 2021.
Why is this important to GBTU and our supporters ?
We have been instrumental in the trails' funding and physical creation.
We have done work projects here.
According to shocking surveys done by the WI DNR, the South Branch of the Oconto River holds very good trout size-structure, natural reproduction and trophy fish (CLICK HERE for WI DNR's 2019 stream survey).
It is excellent trout fishing within driving distance for most of our members.
Below is the email sent to GBTU (Dec 14th, 2020) by United States Forestry Service (USFS) District Recreation Program Manager, Brian Hinch…
"Good afternoon Adrian and Doug,
I am currently the Acting District Recreation Program Manager for the Lakewood-Laona Ranger District behind Greyling Brandt until January 2, 2021. See the attached photos of signage at the current South Branch Oconto River Fishing Piers and plans for the project. Construction is beginning this week to replace/decommission existing fishing piers/pathways to make them fully accessible. The construction related to this project will be going on until March 15, 2021.
Main point of this correspondence is that Trout Unlimited was partners in the last fishing pier project and we wanted to keep partners informed of the work being done to rehabilitate and replace infrastructure to ensure this fishing pier is fully accessible. This project is currently being funded by a Stewardship Agreement, matching funds from The Nature Conservancy, and added resources from the US Forest Service."
Thank you for all you do for the coldwater resources of Northeast Wisconsin !!!
Below are examples of the signage leading to the trail, including a very nice map…