2015 Last Work Project August 15th
Article written on 2015-08-06 by: Lee Meyers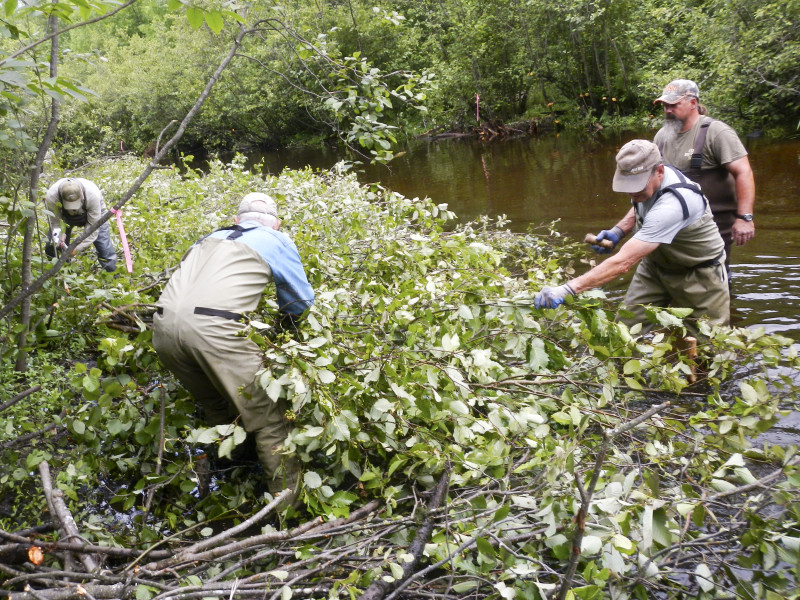 Work Project #4, which is our last work project for 2015, is on Saturday August 15th and involves the brushing of Ninemile Creek,
This is the same creek we had the most folks turnout in a long long time in 2013 as We counted 39 volunteers.
This allowed us to shred a long section of creek with tag Alder cutting and brush bundling.
Nine Mile Creek is Wolf River tributary.  By helping Ninemile stay cooler, it allows improved habitat for trout as they seek shelter from the heat up of the Wolf over the Summer months.
We w ill gather at the usual time of 8:30am and work to approximately 12:30pm depending on how many folks show up.
The location is ~9 miles north of Langlade, take Highway 55 to East Hollister Rd (look for TU signs).
Ninemile Creek GPS coordinates that we will meet at around 8:30 are:  45.247798, -88.788851
Please contact Lee Meyers, if you are planning to attend, @ (920) 676-9919 / lmeyers12000@yahoo.com .
Check out the Gallery of Photos.