July 20 – Work Project #3 Summary and Pictures
Article written on 2019-08-05 by: Adrian Meseberg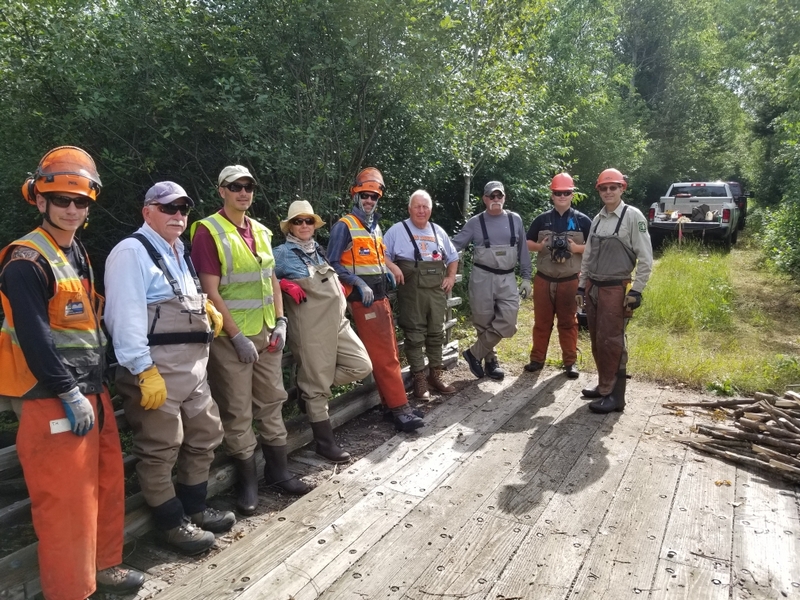 Mother Nature can be awfully unpredictable sometimes. On July 20th she decided to throw some surprise weather our way.
Several TU members went out to our 3rd work project of the season not knowing there would be rain and even tornado warnings coming later that day. As a result, the work was shortened down to 2.5 hours to make sure everyone got home safely.
Below is a summary of work project #3 by project chair Paul Kruse…
On July 20th we placed brush bundles and staked down bundles. We also trimmed Swanson Creek for fishability. The chapter worked on Swanson Creek about 8 years back and deepened the creek. Swanson Creek is a spring fed thermal refuge for trout inhabitants of the Rat River system of Forest and Marinette Counties.
From left to right in the picture above is Tom Moris, Andre Deleazo, Tom Seiber, Pat Hill, Kyle Seiber, Melis Arik Doug Seidel and Trevor. We also had a TU member from Wisconsin River Valley, Nate Gruber, join us late (not pictured). Nate drove 2.5 hours which is usually 1.5 hours to help out. Because of the storm he was late, but still managed to join the crew !
Thanks to everyone who made it !!!