June 15 – Work Project #2 Summary and Pictures
Article written on 2019-06-24 by: Adrian Meseberg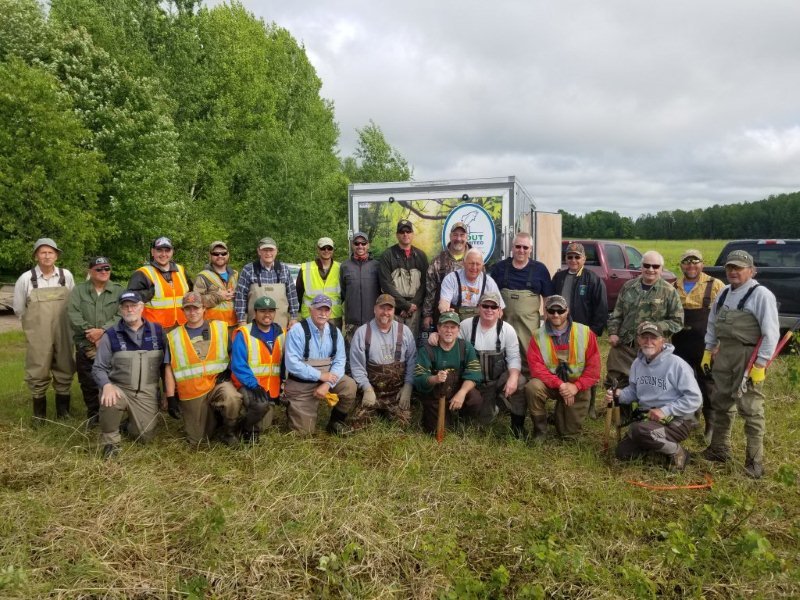 On Saturday, June 24th GBTU along with members from Antigo TU, Northwoods TU, Oconto TU and the WIDNR conducted our second work project of the 2019 season.
We were on the Evergreen River above the Menominee Reservation. This section of the Evergreen had 1.7 miles of extensive work conducted on it from 2009-2014. Work then included dig and pile channel shaping with a hydraulic excavator, large wood additions and brush bundling. Most of the brush bundling was completed in the summers of 2012 and 2014. The section that could use some final touches is the brush bundling sections.
For this project, roughly 1800 feet of stream was lightly bundled as needed. Materials were limited so we used a combination of Christmas trees and tag alders. This section stream has a high bed load of sand and silt which made it a perfect candidate for bundling. Christmas trees were staged along the stream, loaded onto a boat, floated to the desired location and put in place.
We used a piranha mini dredge to fill the newly created bundles. This will speed up the establishment of the banks and will maximize the use of material by not having to refill the bundles in future years.
In addition, we also did some "touch up" brushing on the old brush bundles. Only tag alders that are on outside bends or extend over half the stream channel were cut and used.
The attendees were as follow:
Paul Kruse (GBTU work project coordinator)
Harold Becks
Taylor Curran (DNR)
Dallas Moe (DNR)
Jonathan Pyatskowit (DNR)
Dennis Dugre
Byron Dugre
Dennis Gusick
Mike Reeb
Terry Cummings (Northwood's TU)
Jeff House
Matt Norem
Pat Hill
Wally Heil
Adrian Meseberg
Doug Seidl
Peter Tillman
Dani Long and Jonathan
Gary Gillis
Mike Heinrich (Antigo)
John Heinrich (Antigo)
Nick Klitzka (Oconto River)
Wayne Czypinski (Oconto River)
Dan Wink (Antigo) Griller
Larry Marmes (Antigo) Griller
A huge thanks to everyone who came out ! Check out the pictures below…