Sept 19 – Work Project Summary and Pictures
Article written on 2020-09-23 by: Adrian Meseberg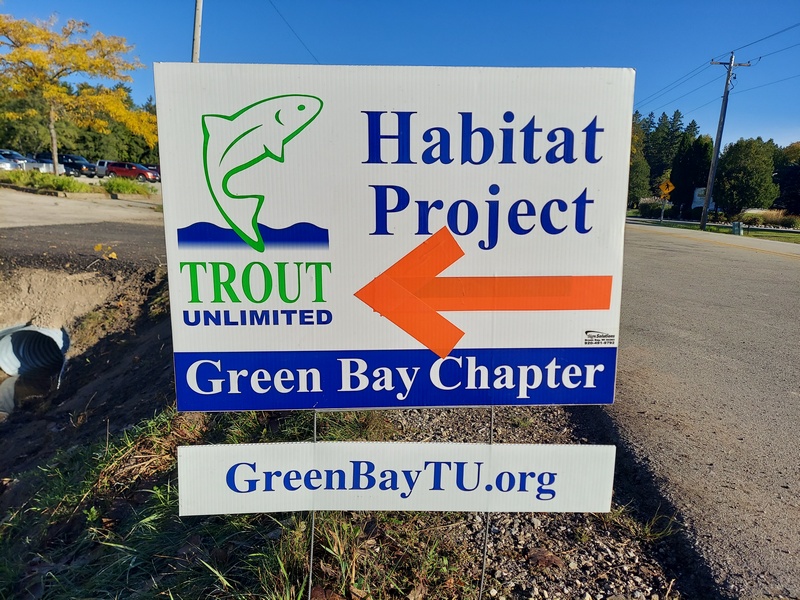 GBTU has had a Trout Educational Trial across from the NEW Zoo (next to the zoo parking lot) for nearly 30 years. The location is excellent as the zoo sees countless visitors every year. Any organization would be grateful to showcase their efforts here. (Check out the History of the GBTU Educational Trail).
Like anything else; the trail, signs, displays and fencing have aged.
Since June 12th GBTU has been actively engaged with the Reforestation Camp (Clay Garett) and Brown County Program and Natural Resource Coordinator Jason Petrella in an partnership to upgrade and cleanup the trail. As part of this work the Reforestation Camp (Clay) has committed to re-roof the leaking covered bridge beginning the trail, Brown County (Jason Petrella) has agreed to work to restore the ponds (the county did pond weed treatment for the first time in several years as a first step) and GBTU has pledged to upgrade the trail.
At our first virtual Board of Directors (BOD) meeting (August 6th) we created a GBTU Trout Educational Trail Committee. We have around 10 members on the committee. We held our first committee meeting virtually on August 20th. During the meeting we decided on a theme proposed by Paul Kruse. BOD member, and past GBTU President, Randy Rake, volunteered to design the new signs. Prior to the meeting work Project Chair Paul Kruse scheduled this work project day. Randy provided a sign template a few days later that, after being tweaked by committee suggestions, was given committee and BOD approval.
It was now time for the dirty work !
On September 20th 11 GBTU volunteers gathered together at the trail to begin the first steps in the process…removal of the old structural displays, degraded split-rail fence and removal/stump treatment of common and glossy buckthorn that had overgrown on Haller's Creek's banks. The crew included Paul Kruse, Jim VandenBranden, Dave Ostanek, Jon Ostank, Maya, Pat Hill, Jeff House, Peter Tilleman, Bill Holton, Doug Seidl and Adrian Meseberg. Since TU National has a Covid-19 guideline preventing chapter's from providing lunch…work project chair Paul Kruse came up with a creative way to reward our hard-working weekend warriors with gift cards to Burger King, McDonalds and Subway.
This project is BIG for GBTU and our clean coldwater mission. As stated previously, this is an extremely high traffic, high visibility area. The potential for Haller's Creek and the connecting ponds is huge. For several years the Wisconsin Department of Natural Resources (WI DNR) stocked "keeper" trout here. This provided an urban trout fishery for the Green Bay area. With a renewed trail and reworked ponds the skies the limit.
The following pictures tell the story of our workday. It was wonderful to see chapter member faces we haven't in a long time. While there are several pictures (35)…we felt it was important to show the whole story of what our volunteers did this day…especially in the mist of a pandemic. It is remarkable !
Finally…it is very important to thank our veteran GBTU chapter members who were responsible for securing this location and creating the Educational Trail to begin with. Their vision and work was/is amazing ! The story is incredible. The work they had to do in securing permits, building the bridge, developing the trial, the signs, the fencing, the structural displays and much more is unimaginable. THANK YOU. Our current goal as a chapter is to continue the work and not to let your efforts "die on the vine."
Follow our work day in the pictures below…