2014-Jul-9 Kids Fishing Day
Article written on 2014-07-10 by: Michael Renish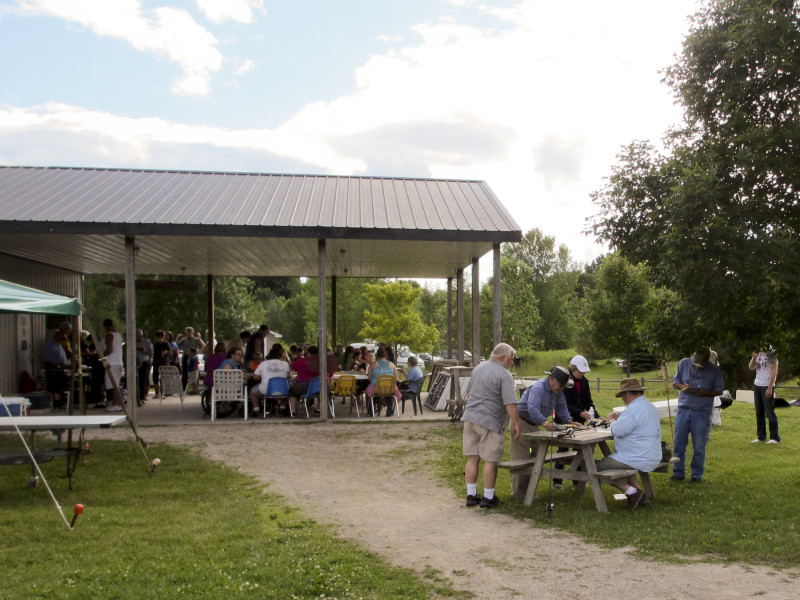 Kids Fishing Day – July 9th, 2014
For the 23rd year, Green Bay Trout Unlimited participated in the Kids Fishing Event that was held at the Izaak Walton Environmental Center ponds and shelter.
Due to great weather, and past positive experiences, this years event was likely the highest number of children we've ever had.  About 70 Children enjoyed catching many Bluegills, several nice sized Bass and a few other species (including turtles).
The event lasted from 4 – 7 PM with dinner provided by Festival Foods and the Green Bay Exchange Club.  135 total plates of food were served that included 175 hot dogs, baked beans, chips, fruit and COOKIES !
The children are from various Brown County Social Service programs lead by Glen Tilot.
Trout Unlimited members were kept busy showing the kids how to bait hooks, cast a fishing pole, catch fish, and then how to unhook and release fish.  Busiest of all, were members like Jack Koivisto who helped fix the many tangled fishing lines, reels and poles.
All total, 15 Trout Unlimited members showed up to help out, including Adrian Meseberg, Mike Renish, Pat Hill, Larry Mommarts, Roger Denil, Keith Pamperin, Bruce Duechert, Dave Ostanek, Harold Becks, Jack Koivisto, Lee Meyers, Grant Craig, Paul Kruse, Dennis Gusick and Aaron Frailing.
Please plan on attending next year, as helping a child catch a fish is a very rewarding experience.
Check out the Photos from 2014 and get the Google Map to where the event was held to have handy next year.   Please contact Lee Meyers at 920-676-9919 with any questions.