Haller Creek stocking April 2015
Article written on 2015-05-01 by: Lee Meyers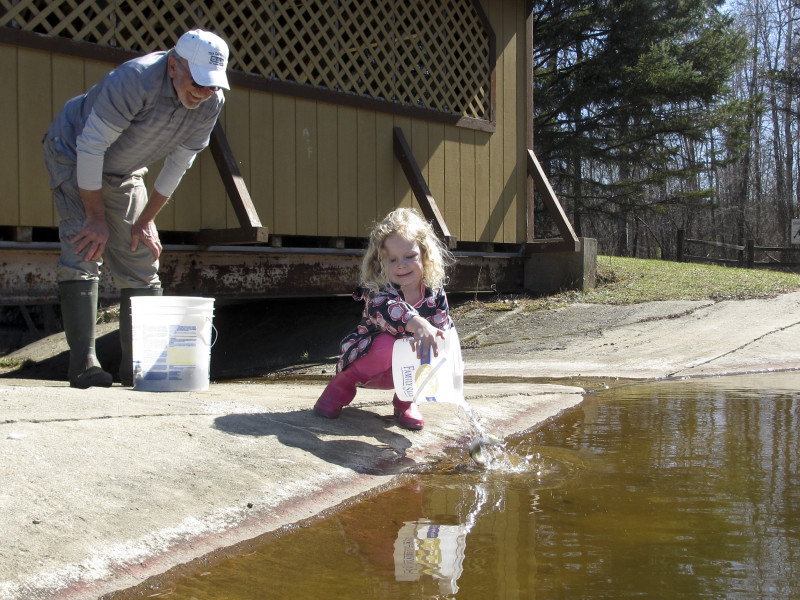 With very short notice, 8 volunteers showed up to help "scatter-plant" 500 brown trout on Thursday, April 30, just prior for the opening of the trout fishing season on Saturday, May 2.
The 8- to 10-inch long brown trout were provided by the Wisconsin Department of Natural Resources produced at the St Croix Hatchery and trucked across the state by Technicians from DNR Operations Unit.
The goal is that local Green Bay area youngsters have a chance to catch a trout and at the same time read the trout habitat informational signs Trout Unlimited has placed along Hallers Creek.
If you know someone with a child that would like to catch a trout take them out to the NEW Zoo and fish the small stream with the trout signs along it. The stream flows through the smaller pond across the road from the Zoo and there is a large parking lot and nice walking trail which makes it easier for younger ones.
The trout were stocked near many of the displays near the stream so just follow the trail.
TU Volunteers who helped make this happen included: Doug Seidl, Mike Renish, Harold Becks, his granddaughter Sophie, Bill Holton, Bruce Cottrell and UWGB students- Brendon Leigh & Jeff Stone.
Thanks for everyone who helped and especially the Wisconsin DNR staff for providing the trout. I'm sure there will be many happy trout anglers on opening day!
Please check out the Gallery of Photos to see all the pictures from the day's event.