May 21st, 2016 WPR
Article written on 2016-05-22 by: Michael Renish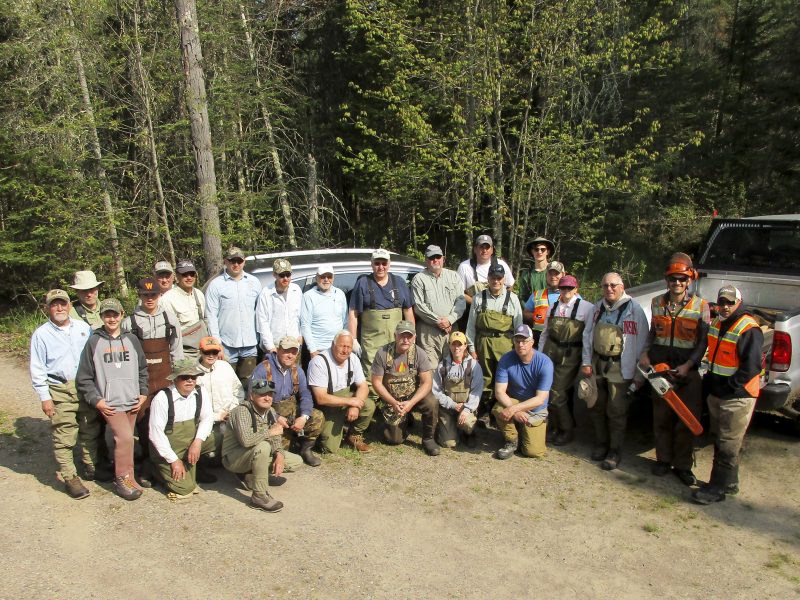 The Green Bay Chapter of Trout Unlimited (GBTU) teamed up with three of our brother chapters, Marinette Trout Unlimited (MTU), Oconto River Trout Unlimited (ORTU) and Wolf River Trout Unlimited (WRTU), along with the Wisconsin Department of Natural Resources (WDNR), to clear and bundle tag Alder on the south branch of the Oconto River.
The project was a section just west and north of County T in Oconto County very close to the Langlade county line (Please see the 2016 Work Project Schedule Page for details on location).  This section also contains boardwalks and piers that will get refurbished at some future date.
There were a total of 28 workers that fanned out from north of the County T bridge moving north and west to cut Alder and either stacked them for channel narrowing or dragging them off into the woods to decompose.
Tammie Paoli helped lead a crew of five, WDNR personnel, that directed to volunteers on the project.
The roster, in alphabetically order, included Harold Beck, Mitch Bent, Wayne Czypinski (ORTU), Bruce Deuchert, John Deuchert, Byron Dugre (ORTU), Dennis Dugre, Carter Dugre, Connor Dugre, Doug Erdmann (MTU), Pat Hill, Bill Holton, Jeff House, Andy Killoren (WRTU), Dave Lengas (MTU), Julie Jensen-Lengas (MTU), DJ Loken (WDNR), Matt Norem, Tammie Paoli (WDNR), Evan Pesut (Indian Trout Unlimited), JJ Pyatsicowit, Jonathan Pyatsicowit (WDNR), Mike Renish, Doug Seidl, Kyle Siebers (WDNR), Nick Speel, Don Wagner (ORTU) and Doug Weber (WDNR).
Matt Norem, Jeff House, Andy Kiloreen and Roger Wilder. from the Wolf River Chapter, peeled off to work a different section of the Elton Creek from the Silvermoon Hatchery Dam to Hwy 64.
This section was a few hundred yards long and they cleared brush obstructions from the river while also staking in a few logs and brush to help channelized the water flow.  They also did some garbage clean up of cans, bottles and worm containers.
A huge thank you goes out to all those who attended.  Without your help and dedication to making our natural resources better, none of this would have happened.
THANK YOU !!!
Please check out the Gallery of Photos.