Brushing on S. Br. Oconto June 20th
Article written on 2015-06-22 by: Lee Meyers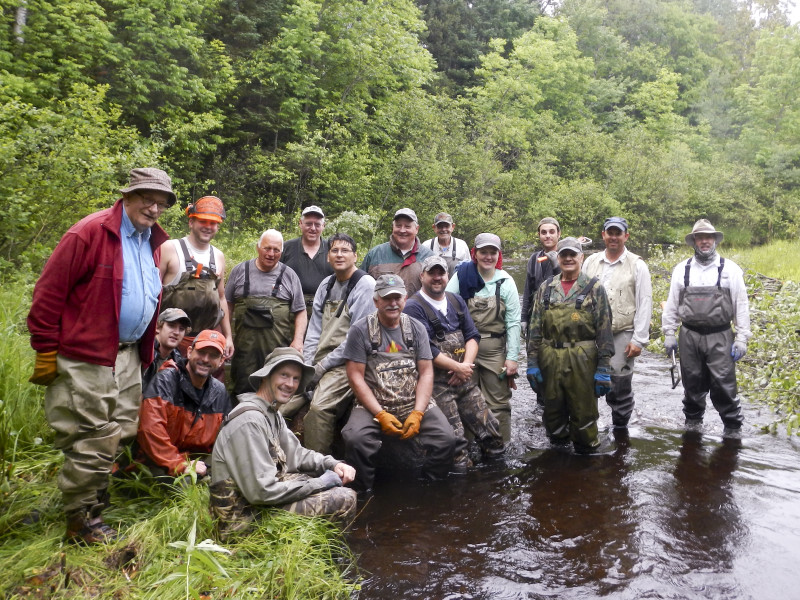 We completed our second work project, clearing tag Alders and brush bundling on the South Branch of the Oconto June 20th, with only a light rain falling toward the end the morning.
Fifteen TU volunteers showed up to work with the Peshtigo Wisconsin Department of Natural Resourses crew headed by fish biologist Chip Long.
The crew included the summer Limited Term Employees, that we helped fund, of Colton Zdroik and Ben Thome.
Saturday's project involved cutting tag alder brush that was covering an older trout habitat area and refurbishing a brush bundle "point bar" which we had built in 2011.
As a result, there is now 1,000 feet of nice of very "fishable" trout water where a full sized fly rod can get used without snagging brush to catch 8 to 10-inch wild brook trout.
Thanks to the efforts of Green Bay Chapter members:  Pat Hill, Jeff Gross, Jeff House, Matt Norem, Doug Seidl, Lee Meyers, Paul Mongin, Dave Mongin, Matt Mizrahi, Dani Long, Mike Renish and Dave Osternak.
We were joined by Oconto Chapter members Wayne Czypinski, Jeff Jackson, and Bob Omba.
It was nice to see the older members, but we had 4 or 5 "first timers" which really made a difference.
Thanks again to the leadership of the DNR crew from Peshtigo and we hope to see more first timers at our next work project on July 18, when we improve the North Branch Oconto at Wabeno.
Don't forget to check out the Photo Gallery.