April 13 – 47th Conservation Banquet
Article written on 2023-02-12 by: Adrian Meseberg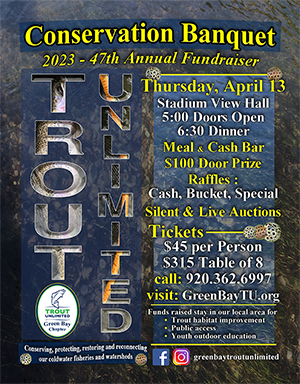 Many of our supporters have come to expect conservation banquet in February. However, due to kitchen renovations at Stadium View, we have moved our 2023 banquet to Thursday, April 13th. The banquet will still be held at Stadium View Bar and Grille.
If you have ever been to our banquets, you know just how exciting they are. If you haven't ever been to one, ask anyone who has.
There is a huge variety of prizes, multiple different raffles, door prizes, cash prizes, great food and whole lot of fun to be had. We can't wait to provide an amazing experience for you again this year.
And remember…all the money raised in re-invested in the community/area for habitat improvement, youth education, community outreach, veteran's services and much much more !!!
GBTU 47TH ANNUAL CONSERVATION BANQUET DETAILS BELOW
Date: Thursday, April 13th
Time: 5:00p – Doors Open / 6:30p – Dinner
Location: Stadium View Banquet Hall, 1963 Holmgren Way, Green Bay, WI 54304 (CLICK HERE FOR GOOGLE MAP)
Extras: Plenty of prizes, raffles, food and fun !!
Questions: Please contact GBTU President Adrian Meseberg – greenbaytu@gmail.com / (920) 562-6129
Live auction items (thank you Lee Meyers)…
Trout Fishing in the Central Sands Region of Wisconsin. One half day of guided trout fishing for one or two people during the 2023 season. This trip is offered by Fall Line Outfitters & Fly-Fishing Shop of Stevens Point. Fish the brown and brook trout waters in the central part of the state streams, such as the Tomorrow River. Book your trip as soon as possible, pick a date from May to October of 2023. You'll need a Trout Stamp and your own fishing gear.School of Bluegills, carving by Dick Bajorek. Dick passed away in 2010 at the age of 78. He was a passionate wood carver of wildlife and taught wood carving at NWTC for 25 years. Dick was a longtime member of Trout Unlimited and donated many of his carvings to Chapter fundraisers. This is a beautiful school the bluegills, Wisconsin's "bread and butter" fish. The lifelike detail on the bluegills is unbelievable. The greenish tint to the color indicates an underwater view. This fine carving is being donated back to the Chapter by Mitch Bent. It is dated and signed by the artist.
Woodfire Sporting Clay Package. Half-day of shooting clays for 4 people at Woodfire Lodge located near Brillion about 20 miles south of Green Bay. This is "Package B" (3.5 Hours) and includes a 75-bird team flurry (5 stand), 50 targets per person (clay course), sight pairs (1 per group per station). Just bring your favorite shotgun, everything else is included; ear plugs, safety glasses, 3 boxes of shotgun shells per person, ammunition aprons. After shooting, the package includes one hour of domestic beer pitchers and pizza.
Guided Smallmouth Bass Fishing & Float Trip: Al Jamir is an avid fisherman and has fished the Menominee River for over 15 years. You and a guest will enjoy world-class Smallmouth bass fishing for a full day with a fly rod or spinning rod. You will be drifting down the Menominee River in a Hyde 16-foot low-profile drift boat. Plus, you and your guest will be treated to a great grilled lunch. Be sure to bring your camera to capture photos of the bass you catch, the bald eagles and other wildlife along the river. This has been very popular item. Schedule a mutually acceptable date during the summer of 2023.
Pheasant hunt at Woodfire: Woodfire Hunting Preserve & Lodge provides a half day hunt for 6 Pheasants (can upgrade to 10 birds). Bring your own hunting gear. Woodfire is a 500-acre state licensed hunting preserve that provides a premier hunting experience. It is located about 20 miles south of Green Bay near Brillion. As a bonus, Bruce Deadman has donated the use of his hunting dog, Carson, And, Bruce comes along with this package deal.
Cutthroat Trout, carving by Allan Lemke. Al is here tonight. Al has been carving wildlife for over 25 years and has donated many of his carvings for fundraisers of the Marinette Chapter of Trout Unlimited. This year Al is donating a beautiful carving and painting of a Cutthroat trout. Cutthroat trout have a striking red blaze under the mouth from which their name is derived. They are commonly found in the clear, cold-water streams of the Rocky Mountains. Please give a generous bid on this beautiful trout species.
Thank you for all you do for our coldwater resources !!!